Introduction
---
Reeven is still a fairly new company based in Asia that focus on cooling products and also fan controllers. It's hard to find any Reeven products in the UK as they don't seem to have any resellers over here, which is a real shame. The products really do look very nice and I think there is certainly a place for them here. We have been sent three coolers that Reeven are looking to push into the UK market, last month we showed you the Reeven Justice and we are going to look at the second one, the Reeven Brontes. The Brontes is a compact low profile CPU cooler, these are for people who are looking for a small office PC or a HTPC rather than a fully kitted out gaming rig or a benching build.
The box for the Brontes is quite simple and as you would expect for such a small unit, rather small. It has all the information you need about the cooler such as which sockets it fits and some nice pictures showing you what to expect inside.
Here is a bit more about the specification of the Reeven Brontes. As you can see, it supports all the popular socket types from both Intel and AMD. As with a lot of low profile coolers though, there is no support for 2011.
Inside the box we get a nice bunch of brackets and fittings to allow us to mount the CPU cooler, the fittings are for both AMD and Intel. One of my pet hates with certain manufacturers is giving a sachet of thermal paste rather than a syringe. The sachet can only be used once, meaning if you need to re-attach the cooler to upgrade the CPU or anything else, then you will have to purchase more separately. Ok, it's nice that they provide the thermal paste in the first place but syringes are far more usable.
The fan for the Brontes is really quite unique. It is tiny measuring only 100mm x 100mm in diameter an only 12mm wide. The fan comes pre-attached to the cooler so you are ready to go straight out of the box so there is no fiddling around with fan brackets. As you can see, they use the usual colours for Reeven which is black and yellow. I do like how the company sticks with the same two colours all the time, however it could put people off if they are trying to colour match with the fan with the rest of the system, yellow and black is a lovely combination, but there is only a fraction of the market that uses it.
With the fan back on the Brontes you can see how the cooler looks as a whole. I really like the sleek look and it's great to see that they have sleeved the cable also. The cooler has 4 nickel-plated copper heat pipes to ensure that the heat from the CPU travels to the fins effectively
With a side profile, we can see just how low profile this cooler is. It is 59mm in height so it is perfect for your ITX systems.
One thing I do always love about Reeven products is the way they create their heat sinks. The larger units are works of art and its great to see they have used the same design on their smaller low profile units. The Brontes has a really nice quality feel to it and the last fin of the cooler has the Reeven logo cut out of it giving this really nice finish.
The underside is nickel-plated copper, which ensures the best possible thermal conductivity, as well as a little more eye candy. You can also see that it is actually off centre, this helps you when it comes to installing as if it was central it might foul your RAM. This is a really nice idea to give the user optimal choice.
Installation for the Reeven Brontes couldn't be easier, it's simply a case of attaching either the AMD or Intel brackets to the cooler and lining up the holes with the ones on the motherboard, obviously applying the thermal paste first.
Then, simply screw the 4 screws (with rubber washers) through the back of the motherboard to hold the cooler in place.
When the cooler is in place there is plenty of space in between the RAM and the Brontes meaning you can use RAM with large heat sinks if you like.
So, we have seen how this product looks, let's see how it performs!
–~~~~~~~~~~~~–
Test System and Methodology
---
We always use the same test system and tests with CPU coolers that we compare against each other. The full specifications of our test system are as follows:
Test system:
ASUS P8Z77-V, LGA 1155 socket, Z77 chipset
Intel Core i5 3570K with Gelid GC Extreme under the IHS
16gb HyperX Genesis 1600mhz ram
Antec High Current Gamer 620W
Cooler Master Test Bench v1.0
We'd like to say a big thank you to ASUS, Antec, Kingston, Cooler Master and Intel for providing components that makes this testing possible.
Testing Methodology:
We always use Gelid GC Extreme thermal paste to make sure testing reveals the efficiency of the tested coolers not the efficiency of the bundled thermal paste.
Prime 95 is run for 10 minutes and then the average maximum temperatures as recorded by CPUID HWMonitor are noted
The average temperature across the four cores is taken on our quad-core processor
Fans are mostly left to operate at default PWM profile speeds and with maximum fan speed for reference. If PWM functions are not supported then fixed fan speeds are used and sometimes a low noise adapter if appropriate/provided. If fixed fan speeds or low noise adapters are used it will be clearly pointed out either on the graphs or in the write-up.
All default result entries on graphs are for PWM performance unless otherwise specified. A variety of fan speed results are done for a particular product review and then removed from the graphs in future reviews of other products to avoid clutter. If you would like to see more fan speed results for a particular product please check its individual review.
For water cooling tests all pumps have been operated at 12 volts directly from the power supply
Delta temperatures are always used (Observed temperature minus ambient temperature) and we keep the ambient at 22 (+/- 1) degrees for all testing. Delta temperatures should correct for any marginal ambient differences between 21-23 degrees.
Acoustic measurements are taken 10cm horizontally away from the CPU cooler with the VGA fan disabled, hard drive in idle and power supply isolated. These are taken at desktop idle and Prime95 load.
The cooling performance tests are run at stock 3.4GHz (with Intel Turbo up to 3.8GHz) and overclocked 4.5GHz (1.35v) settings. Voltages are fixed to prevent inaccuracy between comparisons.
All other coolers in the graphs have been tested under identical settings so are fully comparable.
Each test is repeated 3 times with 3 remounts for consistency of results
There is approximately a 1 degree Celsius margin of error in our temperature recording software CPUID HW Monitor
There is approximately a 1.5dBA margin of error with our Benetech GM1351 decibel meter
Software Used
–~~~~~~~~~~~~–
Performance
---
Low profile coolers are made for ITX systems such as HTPC or small office computers rather than high-end gaming systems or anything else that creates a lot of heat. We don't take any prisoners though and test these coolers the same way as we test a high end AIO. At stock this cooler is quite low down in our table with a 100% delta temp of 31 degrees. This is certainly not bad at all and is perfect for an ITX system that is not overclocked. The 15 degrees idle temp is higher than most, but it's not surprising with such a small fan; it is completely safe at these temperatures and even beats quite a few larger coolers.

When overclocked it comes as no surprise that it does drop down the table to the bottom, these coolers just are not made for overclocked CPUs. At 4.5GHz we get a delta temperature of 55 degrees which is high but it is surprising that it could even do this. A lot of low profile CPU coolers are unable to even complete the test when the CPU is overclocked such as the Zelos from Raijintek.

When we get out our decibel reader, we can see that the Brontes is almost silent at stock. This is exactly what you want from a low profile cooler as a lot of them are used in HTPC systems and you certainly don't want the sound of a fan interrupting your favourite film. This is an amazingly quite unit at stock

Even when we have our CPU overclocked to 4.5 GHz the cooler is quiet, it does have to really work hard to cool so it does get louder, but for such a small unit the noise is perfectly acceptable.
–~~~~~~~~~~~~–
Final Thoughts
---
Price
Unfortunately we can't get a GBP price for the Reeven Brontes as we just don't see many of their products in the UK yet which really is unfortunate. We can tell you that in the US these are going for around 34 USD. This is certainly an acceptable price for this cooler as it does do what it needs to do.
Overview;
The Reeven Brontes is a great looking low profile cooler which really does do everything that we expect of it and more. Idle temps are slightly higher than we usually see but it's nothing that should bother anyone, they are certainly acceptable. With the increase in popularity of HTPC systems low profile coolers are becoming more common. With this in mind we have to turn away from just performance and look at the way this cooler is used. HTPC systems do not usually have a heavy overclock and they are not usually under heavy load, all you generally need is something that's quiet, is small, ensures that the system stays cool and in certain cases, something that looks good.The Brontes ticks all these boxes and even comes with a small price tag. As the saying goes its horses for courses and this cooler does everything it is asked of.
The Brontes ticks all these boxes and even comes with a small price tag. As the saying goes, it's horses for courses and this cooler does everything it is asked of. I have given this the "Editors Choice Award". I think taking everything into consideration the Brontes really does excel as a HTPC or an ITX cooler.
Pros
Excellent build quality
Great aesthetics
Very simple to install
Quiet
Compact
Cons
Struggles with overclocked CPUs
Thermal paste comes in a sachet rather than syringe.
"The Reeven Brontes is an excellent choice for anyone who is looking to build a HTPC or small form factor system. It's quiet, compact, cheap, performs well and even looks good."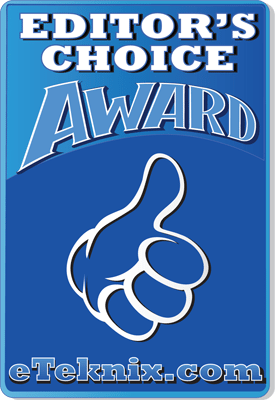 Reeven for providing us with this sample.