Introduction
---
NVIDIA's GTX 980Ti has proved to be a very popular choice among hardware enthusiasts requiring extreme performance at demanding resolutions. Whether you're opting for a 21:9 3440×1440 60Hz panel, 4K display or high refresh rate 1440P monitor, there's very few single card configurations on the market capable of dealing with advanced AA, complex tessellation and other visually taxing effects while driving a large number of pixels. Technically, the Titan X is NVIDIA's flagship product and its 12GB frame buffer initially appears like an enticing proposition. However, the price to performance ratio is quite poor especially when you consider the 980Ti is based on the same GM200 silicone and only exhibits a few cost saving measures. Most notably, the video memory is reduced from 12GB to 6GB and the shader units have been slightly scaled back from 3072 to 2816.
Barring a few exceptions, the majority of Titan X models utilize a reference design which results in reduced overclocking headroom and higher temperatures. In contrast to this, custom cooled GTX 980Ti SKUs feature very impressive factory overclocks and enable users to access a higher power limit percentage when tackling manual core and memory boosts. As a result, it's not uncommon for 980Ti GPUs to outperform the Titan X in certain scenarios despite costing £300-400 less. This means it is the perfect choice for the higher end demographic and also provides an improved price to performance ratio.
Today we're looking at one of the fastest GTX 980 Ti models on the market incorporating a pre-overclocked core of 1216MHz and boost reaching 1317MHz. Additionally, the memory is set at 7280MHz compared to 7010MHz on the reference design. Given the impeccable 3-fan cooling solution, and impressive factory overclock, I expect the graphics card to perform superbly and pull away from the reference 980Ti by a noticeable margin.
Specifications:
Packing and Accessories
The Inno3D 980Ti X3 Ultra DHS is packaged in a hefty box which does an excellent job of protecting the GPU, and bundled accessories. On another note, the box adopts a really striking design which emphasizes the extreme level of performance on offer.
The opposite side includes a brief synopsis of the GPU's capabilities and outlines the modern features incorporated into this particular model such as High Dynamic Range (HDR).
In terms of accessories, the product comes with interchangeable cover plates, an installation guide, 3DMark digital code, power supply guidelines, driver disk, and the usual array of adapters. Please note, the 3DMark code is not pictured to prevent the serial from being used.
Another highlight is the extremely high quality elongated mouse pad. I love extended mouse pads because they allow you to neatly position your keyboard and mouse while opting for a clean, sophisticated appearance. Despite being a free addition, the mouse pad is remarkably thick and should last a long time without becoming too frayed.
–~~~~~~~~~~~~–
A Closer Look
---
Inno3D have utilized three 90mm fans capable of detecting GPU temperatures and switching to a 0dB profile during idle usage scenarios. This means you can easily play casual games requiring a small percentage of GPU utilization while maintaining silent operation. Furthermore, when the fans are switched off, the GPU's power consumption can reduce slightly although the effect is pretty minimal. The graphics card also opts for a large copper base heatsink with 5 high flux heat pipes in the form of a 3x6mm and 2x8mm configuration. As a result, the GPU can effectively dissipate the thermal build-up from one area to another and compliment the 118pcs aluminium fins heatsink. Overall, this level of cooling prowess is necessary to offer excellent overclocking headroom without having a negative impact on load noise levels.
Changing the cover plates has a dramatic effect on the graphics card's visual design and allows the end-user to choose a colour scheme which fits their build. At first, the mechanism felt rather fragile, and I had to use some force to dismantle the stock plates. Eventually, the covers loosened and changing them became an absolute breeze. All you have to do is insert a hex key into the four mount points, and progressively unscrew the fitting before lifting the covers off.
While the red theme is a visual treat, my personal favourite has to be the white finish. This is mainly due to the lovely contrast between the white cover plates and the black fans. It works really well and there's not that many GPU products on the market barring GALAX' HOF range to cater to systems with a white focus.
Here we can see the GPU's triple slot design which looks pretty spectacular and emphasizes the level of cooling hardware throughout. This does means the product weighs over 1.2KG and measures a total of L282mm, W110mm and H43mm. As always, it's important to check your chassis' restrictions before purchasing any hardware. Despite this, it's not the longest GPU out there, and the only real consideration is the use of three expansion slots.
To leverage the extra overclocking performance, the GPU requires an 8-pin and 6-pin PCI-E connectors.
The backplate protects the PCB while adding much-needed rigidity to prevent GPU droop. At over 1.2kg, it's imperative for the backplate to reinforce the GPU and keep it in an optimal position. From an aesthetics standpoint, the backplate doesn't look overly special and there are definitely more attractive options out there. On the other hand, this is a subjective comment and down to an individual's taste.
In terms of connectivity options, the graphics card has a DVI-D port, three DisplayPort 1.2 and single HDMI 2.0 connector capable of powering a 4K display at 60Hz.
–~~~~~~~~~~~~–
Testing & Methodology
---
Before we delve into any testing we would like to take this opportunity to overview our test system. All tests will be conducted with the latest stable drivers available, with results will be taken from an average of three tests. All tests will be conducted using the highest factory setting if multiple options are available.
Hardware
Additional Hardware
"Killawatt" style electricity usage meter wall plug
Precision Gold N05CC Decibel meter
Drivers
Software
Battlefield 4
Grand Theft Auto V
Metro Last Light
Tomb Raider
Synthetic Benchmarks
During our testing, we use a range of readily available synthetic benchmarking tools which are free to download from the respective websites. We do this so the readers can download and compared to our results. Download links are contained within the "Software" subheading.
Noise
Everyone has their own reasonable noise level when it comes to comes to components in a computer. Some can handle all fans at 100% load to keep temperatures down, some want a completely silent computer.
Power Consumption
With electricity becoming increasingly expensive across most parts of the world the need for computer components to become power efficient has never been more relevant. Graphics cards are often the most power-hungry components inside a desktop system so having an efficient graphics card is very important to keeping power bills under control. Power is often correlated to heat and so lower power consumption means a graphics card is likely to run slightly cooler and put out less heat into your system meaning your other components will run cooler with improved longevity. AMD and Nvidia have both made power consumption an integral part of the way graphics cards dynamically overclock so the need for graphics card vendors to use efficient VRM and PCB designs is becoming important to maximise performance. We take power readings after 5 minutes of two different load scenarios: desktop idle and Unigine Heaven load.
Temperatures
The cooling solution which graphics card vendors choose to implement is one of the main differences that consumers have to contend with when choosing a graphics cards. Apart from their acoustic properties, the thermal properties of graphics card coolers are extremely important. Lower temperatures are always better and with AMD and Nvidia opting to use dynamic overclocking algorithms that take temperature into account it is important that graphics card vendors use high-performance cooling solutions in order to maximise performance. The era of graphics cards reaching dangerous temperatures are now in the past but the importance of lower temperatures still remains. Lower temperatures mean better stability, longer component longevity and lower fan speeds .We take temperature readings after 5 minutes of two different load scenarios: desktop idle and Unigine Heaven load. We always record actual temperatures and make a note of the ambient; in the case where more than 1 GPU is used an average is created.
–~~~~~~~~~~~~–
3D Mark
---
The graphics card's hefty factory overclock allows it to easily pull away from the reference model and even beat NVIDIA's flagship GPU by a noticeable margin.
When the resolution is increased to 2560×1440, a similar pattern occurs and the performance numbers are just as impressive.
During 4K benching, the GPU attained the first Graphics score above 4000 on record, and showcases its marvellous performance at any resolution.
Unigine Valley
---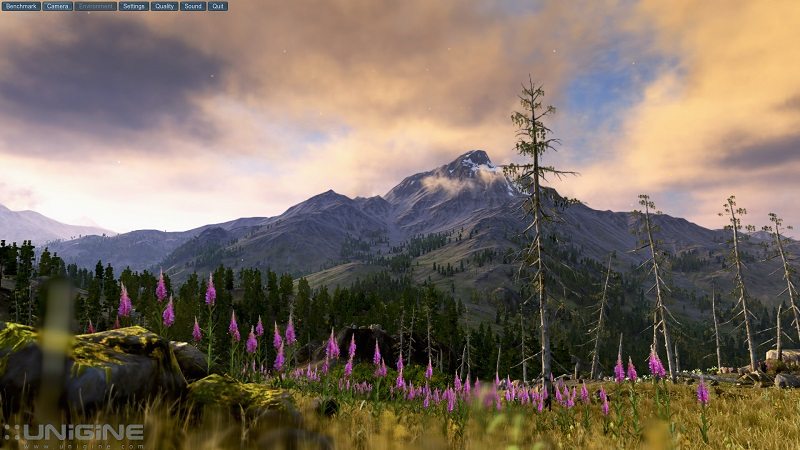 On a similar note, the Inno3D GeForce GTX 980Ti X3 Ultra DHS almost managed to maintain a minimum frame-rate of 30. Furthermore, the average result is magnificent and a major step up from the Titan X.
At 1440P, the gains are reduced slightly, but this doesn't detract from the superb performance.
Once the benchmark was set to a 4K resolution, the GPU managed to fend off its rivals remarkably well. This is somewhat surprising given the Titan X's 12GB frame buffer, and strong showing we come to expect from the Fury X at higher resolutions.
Compute Performance
---
In terms of compute performance, the Inno3D GeForce GTX 980Ti X3 Ultra DHS almost achieved a boost of 1000 compared to the reference model. This is remarkable and exemplifies the improvements relating to the enhanced factory-overclocked specification.
–~~~~~~~~~~~~–
Battlefield 4
---
Despite being a visual masterpiece, it's fairly easy to maintain 60 frames-per-second at 1920×1080 in Battlefield 4 with modern GPUs. Nevertheless, it's fascinating to see the difference in performance using top-tier cards. While the Inno3D GeForce GTX 980Ti X3 Ultra DHS is relegated into third position, it's still well within a margin of error. Additionally, the GPU is designed for higher end setups opting for a 1440P or 4K display.
Once the resolution is increased to 1440P, there's very little to choose from between the top three results.
As you can see, the Inno3D GeForce GTX 980Ti X3 Ultra DHS comes into its own during 4K gaming and reported the best performance numbers we've encountered so far.
–~~~~~~~~~~~~–
Grand Theft Auto V
---
Once again, it's no surprise to see the GPU extend a fairly dramatic lead from the reference card, in both minimum and average results.
While the pattern continues during 1440P testing, the difference is less pronounced.
The GPU manages to extend its lead slightly in 4K testing and provides a more stable user-experience. It's still quite a challenge to remain playable at this high-resolution, especially when you take into account the minimum figure. Thankfully, you can simply turn down a few settings to attain a solid 60 frames-per-second.
–~~~~~~~~~~~~–
Metro Last Light
---
The data in Metro Last Light is confusing due to the huge disparity between various high-end GPUs reporting wildly different minimums. I'm not entirely sure why this is the case but it's better to focus on the average figures which provide a more accurate indication of overall performance. Here we can see, the Inno3D GeForce GTX 980Ti X3 Ultra DHS manages a superb minimum frame-rate and the best average score on record.
During 1440P testing, the GPU's minimum frame-rate drops substantially but still remains one of the strongest results so far. Additionally, the average frame-rate almost reported an increase of 10 FPS when compared to the reference design GTX 980Ti.
There's a huge difference in the average frame-rate during 4K testing, and I'm amazed to almost see 60 FPS from a single card solution.
–~~~~~~~~~~~~–
Tomb Raider
---
Tomb Raider is one of the most optimized PC games in recent memory and scales beautifully across a wide range of hardware configurations. The Inno3D GeForce GTX 980Ti X3 Ultra DHS's 1317MHz boost clock provides a marked performance difference and even attained over 210 frames-per-second.
Similarly, the graphics card didn't encounter any problems during 1440P benchmarking and outperformed the competition by a noticeable margin.
4K is a distinct possibility with this particular GPU especially when you analyse the minimum frame-rate of 60. This provides a superb gaming experience to please even the most demanding of consumers.
–~~~~~~~~~~~~–
Overclocking and Overclocked Performance
---
Overclocking the GPU via MSI Afterburner was remarkably straight forward and I managed to increase the memory to 8100MHz from the stock value of 7280MHz. Furthermore, adding 87mv of voltage and 55MHZ to the core enabled the graphics card to utilize a boost between 1497MHz and 1510MHz. Please remember that the card already comes with an impressive factory overclock, so it's great to see some headroom to push it even further.
3DMark Fire Strike
Unlike our previous testing procedure, we've decided to compare overclocked results to provide a better indication of the performance differences when GPUs are on the absolute limit. Once the overclocked was applied, we can see an incredible Graphics score which surpasses 20000 and forges miles ahead of an overclocked reference GTX 980Ti.
During 1440P testing, the GPU almost reached a Graphics score of 10000, and proved to be a great overclocker.
There's also a new record set for 4K performance which illustrates the GPU's abilities in synthetic benchmarks when pushing a huge number of pixels.
–~~~~~~~~~~~~–
Noise, Power Consumption and Temperatures
---
Noise
Under idle conditions, the Inno3D GeForce GTX 980Ti X3 Ultra DHS is unbelievably quiet thanks to its semi-passive fan profile. Even when the card is subjected to heavy stress, the noise output remains low and only defeated by the Fury X's liquid cooling apparatus. I have to commend Inno3D here because the noise output is difficult to detect and makes for an almost silent system. Granted the Fury X is quieter, but this requires the chassis space to house a radiator, and fan mount as well as room for the tubing. Also, the Fury X is prone to some coil whine especially on earlier models. This always depends on luck, as some Maxwell GPUs suffer from coil whine too. Thankfully, the sample I received was whisper quiet and a complete joy to use.
Power Consumption
The powerful factory overclock requires a 6-pin and 8-pin PCIe connectors which increased the system's power consumption. Despite this, the load wattage is respectable and shouldn't be a major concern for enthusiasts wanting the best possible performance.
Temperatures
The GPU's magnificent noise output wasn't achieved at the expense of load temperatures. As we can see, the Inno3D GeForce GTX 980Ti X3 Ultra DHS GPU reported an amazing bench temperature of 67 degrees, while dealing with a higher ambient temperature. Clearly, the Fury X's closed-loop-cooler is always going to offer fantastic thermal results. Honestly, I'm surprised at the graphics card's amazing noise to temperature ratio which deserves a lot of credit.
–~~~~~~~~~~~~–
Final Thoughts
---
Price
The Inno3D GeForce GTX 980Ti X3 Ultra DHS is currently available from Overclockers UK for £569.99 plus shipping. However, forum members with 100 posts in a 12 month period or 250 posts within 90 days can access DPD next day delivery at no additional cost. In terms of value, the GTX 980Ti is an expensive proposition but there are very few cards on the market which can compete especially when the end-user is powering a 4K display. At the time of writing, the cheapest GTX 980Ti from Overclockers UK costs £499.99. This means the Inno3D GeForce GTX 980Ti X3 Ultra DHS costs £70 more and might be difficult for some users to justify. However, to be fair, the cheaper Zotac option has a core clock of 1051MHZ, boost of 1140MHz and memory of 7010MHz.
Overview
Selecting a suitable graphics card which provides the required performance while matching your system's colour scheme can be problematic especially when certain users alter their build's theme every so often via RGB illumination. Inno3D's changeable cover plates are a novel idea and adds a great deal of flexibility by altering the GPU's physical appearance in a matter of seconds. As previously mentioned, I particularly enjoy the gleaming white finish which contrasts superbly against the dark black triple fan cooling solution. Obviously, visual preference is always down to a person's taste, and it's difficult to gauge the general reception of a particular product's design. Personally, I quite like the GPU's striking lines and industrial style.
Another major talking point is the superb cooling apparatus which allows the GPU's core to remain cool and exceptionally quiet. This is impressive considering the factory overclock on the core, boost and memory clocks. Even when you apply a manual overclock, the GPU maintains almost silent running and never exceeds 70 degrees Celsius. The only real downside to Inno3D's beefy cooling setup is the triple slot design which might prove restrictive in certain chassis configurations. On the other hand, this is a very high-end GPU, and I can only presume the majority of customers considering it will have a good case capable of accommodating a large GPUs.
In terms of performance, the Inno3D GeForce GTX 980Ti X3 Ultra DHS smashed almost every benchmark we threw at it and managed to reign supreme by a large margin. This is emphasized by the results in 3DMark, and Valley which makes the Titan X superfluous unless you suddenly need 12GB VRAM. The graphics card also came into its own during game testing, and consistently pulled ahead by around 4-10 FPS compared to the reference model. On another note, the GPU has a great deal of overclocking headroom despite already being factory overclocked, and capable of setting some very impressive bench scores. With a patient approach, and luck (due to the silicon lottery), you should be able to enhance the performance even further. The most vital aspect you have to take into account is the frames-per-second increase compared to the reference model. In every case, there was a major difference, and this might just be enough to encourage you to spend that extra £70.
Pros
Changeable cover plates add some visual customization
Class-leading performance at 1080p, 1440p, and 4K
Excellent stock results due to high factory overclock
Fantastic temperatures
Impressive overclocking headroom
Superb synthetic results
Unbelievably quiet
Cons
£70 price premium might deter users compared to cheaper models
"The Inno3D GeForce GTX 980Ti X3 Ultra DHS is capable of delivering astonishing performance which surpasses the Titan X and reference GTX 980Ti by a substantial margin. Not only that, it achieves this feat while being completely silent and featuring remarkably cool load temperatures."
Inno3D GeForce GTX 980Ti X3 Ultra DHS 6144MB GDDR5 Graphics Card Review
Thank you Inno3D for providing us with this review sample