Introduction
---
CyberPowerPC are making a sizeable impact in the UK PC market in recent years since they came across the water and settled in the sunny North of England. They contacted us offering not just a glimpse at one their flagship systems, but a completely built and ready to go review sample of which we were encouraged to "test", and by test I mean game on.
Naturally we were on scene faster than you can shake a stick at and soon we were pulling up outside Cyberpower HQ eager to get our mitts onto this mystery machine. We were not disappointed when we were warned that it would take 2 men to lift it, and that I would need to put my back seats down as the box would take up half of the back of my car. As we returned to eTeknix towers we could see on the box what chassis we had, but it wasn't until we got it unpacked that we seen what we had been given, and investigated the invoice properly. What they had in fact given us was a top end X99 system with not one but TWO GTX Titan X's in SLI, with a bespoke water cooling setup, a price tag of £6400, and that's just the beginning. Ladies and Gentlemen, hold onto your hats, I'm going in!
Specifications
Name: Cyberpower Infinity Xtreme Halo
Case: In-Win S Frame ? Black and Gold
Motherboard: ASUS X99 Deluxe INTEL X99,  4 Channel DDR4 ATX Mainboard w/ 8 RAM slots,UEFI Bios,Turbo APP,Thunderbolt Ready,Crystal Sound 2,Turbo LAN,USB3.0,SATA-III RAID,3 Gen3 PCIe x16 & 1 PCIe x4
Processor: i7-5960X Extreme Edition Eight-Core 3.00 GHz 20MB Haswell-E
Processor Cooler: Custom loop, featuring a resivior/pump combo, 360mm radiator with LED fans and rigid tubing.
System Memory: 32GB HyperX Fury w/Heat Spreader DDR4/2400MHz Quad Channel Memory (8 x 4GB sticks)
Main Boot Drive: (1x400GB) Intel 750 Series M.2 PCIe Solid State Drive Card, Read: 2500MB/Sec, Write: 1200MB/Sec
Additional Storage Drive(s): 2TB Seagate Hybrid Gen3 SATA-III 6.0Gb/s Cache 5400RPM SSHD in RAID 0
Graphics card: GeForce GTX Titan X (x2 in SLI, with full cover waterblocks)
Power Supply: Corsair 1200 Watts AX1200i Platinum 80+ Modular digital control Gaming Power Supply – Quad SLI Ready
Extras: ASUS USB 3.1 Expansion PCI-E card, provides extra two USB 3.1, Free Arkham Knight and The Witcher 3 – Wild Hunt
Optical Drive: None
Wireless: Wireless A/C
Monitor: Not included
Peripherals: Not included
OS: Windows 8.1 64 Bit
Warranty: 2 Year Warranty
Price: £6400 as configured Delivered.
Here have the huge box,  with oodles of padding, foam and air pockets to protect its precious cargo.
A motherboard box full of extra cables, goodies and more, including a Windows 8.1 disc.
Unboxed and raring to go.  By this point I had smeared the glass with my clammy palms and had to give it a quick wipe down.
CPU-Z
GPU-Z
–~~~~~~~~~~~~–
A Closer Look
---
At a first glance, we find the power and reset buttons to the right of the case at the front as well as sporting 4 USB 3.0 ports, with a headphone and microphone jack.
The only thing that I personally would change about the case is the top "S" could have been slightly longer in the central position, meaning that from the front all of your cables etc that are plugged into the motherboard would be hidden.  In its current form all of the main I/O ports are hidden except for a selection of USB ports which are situated at the top of the board. Still, if you are somehow occupying most or all of the 16 available USB ports, you should probably be considering a powered hub of some sort. For a more detailed look at the chassis, we invite you to check out our full review of it here.
All of that aside mind you, it is very nice.  The tempered glass coating helps remove the glare from the white lighting within.
In order to get some close ups, we removed the front glass by simply removing the 4 gold thumb screws.
Here we have the hard drive rack with 2 slots to spare, plus a gratuitous CPU and RAM shot
From a different angle, we can see the mighty pair of Titan X's in the loop coming straight from the CPU.
The PCIE SSD sits behind both Titan X's, providing us with incredible boot times.
A full hardware shot in all its glory, because you would, wouldn't you?
The rigid pipework in the liquid cooling setup is to an impressive standard, no standard flexible hose here.
Even round the back, the cable management is excellent.  The channelling of the braided power cables looks lovely too.
The finishing touches are tasteful, which is where I have seen decent rigs be let down in the past.
–~~~~~~~~~~~~–
Test Procedure
---
To test each system or notebook, we want to stress every component of the system to check stability and performance, giving us an idea as to why those particular components were picked for this particular system. We use a wide variety of applications to gain a broad spectrum of results for comparing diverse aspects of system performance
Hardware used:
Acoustic dBA meter
AC "Killawatt" power meter
Software used:
3DMark
AIDA64 Engineer
Cinebench R15
CrystalDiskMark
CPU-Z
GPU-Z
HW-Monitor
Passmark PerformanceTest 8.0
PCMark 8
Prime95
Super PI
Unigine Valley 1.0
Games used:
Bioshock Infinite
Metro Last Light
Tomb Raider
–~~~~~~~~~~~~–
Total System Performance
---
The PCMark 8 Home benchmark includes workloads that reflect common tasks for a typical home user. These workloads have low computational requirements making PCMark 8 Home suitable for testing the performance of low-cost tablets, notebooks and desktops. Home includes workloads for web browsing, writing, gaming, photo editing, and video chat. The results are combined to give a PCMark 8 Home score for your system. Download here.
–~~~~~~~~~~~~–
GPU Performance
---
3DMark
The new 3DMark includes everything you need to benchmark your hardware. With three all new tests you can bench everything from smartphones and tablets, to notebooks and home PCs, to the latest high-end, multi-GPU gaming desktops. Download here.
Unigine Valley
Valley Benchmark is a new GPU stress-testing tool from the developers of the very popular and highly acclaimed Heaven Benchmark. The forest-covered valley surrounded by vast mountains amazes with its scale from a bird's-eye view and is extremely detailed down to every leaf and flower petal. This non-synthetic benchmark powered by the state-of-the art UNIGINE Engine showcases a comprehensive set of cutting-edge graphics technologies with a dynamic environment and fully interactive modes available to the end user. Download here.
–~~~~~~~~~~~~–
Gaming Peformance
---
Bioshock Infinite
BioShock Infinite is the third and last game in the BioShock series. It is a first-person shooter video game developed by Irrational Games and published by 2K Games. BioShock Infinite supports dynamic shadows, post-processing, light shafts, ambient occlusion, object level of detail, Diffusion Depth of Detail, FOV adjustment controls and other advanced DirectX 11 features.
Metro Last Light
Metro: Last Light (formerly Metro 2034) is a first-person shooter and horror video game developed by Ukrainian studio 4A Games and published by Deep Silver for Microsoft Windows, PlayStation 3 and Xbox 360. It was released in May 2013. The game is set in a post-apocalyptic world and features a mixture of action-oriented and stealth gameplay. Metro: Last Light features technology which boasts new lighting effects and improved physics claimed to set a new graphical benchmark on the PC and consoles.
Tomb Raider
In Tomb Raider, the player is confronted with a much younger Lara Croft who is shipwrecked and finds herself stranded on a mysterious island rife with danger, both natural and human. Tomb Raider is a demanding game offering up ultra quality textures, full DirectX 11 support, SSAA, FXAA, MSAA and AMD TressFX technology.
–~~~~~~~~~~~~–
CPU Performance
---
Cinebench R15
Cinebench is a widely respected benchmark for testing the performance of x86 CPUs. The program allows you to test single and multi-threaded performance as well as GPU performance by rendering with Open GL. Download here.
Super Pi
Super PI is a single threaded benchmark that calculates pi to a specific number of digits. Super PI is a single threaded benchmark ideal for testing pure, single threaded x87 floating point performance and while most of the computing market has shifted towards multithreaded applications and more modern instruction sets, Super PI still remains quite indicative of CPU capability in specific applications such as computer gaming. Download here.
–~~~~~~~~~~~~–
Memory Performance
---
AIDA64 Engineer
AIDA64 Engineer is a streamlined Windows diagnostic and benchmarking software for engineers. It has unique capabilities to assess the performance of the processor, system memory, and disk drives. AIDA64 is compatible with all current 32-bit and 64-bit Microsoft Windows operating systems, including Windows 8 and Windows Server 2012. Memory and cache benchmarks are available to analyze system RAM bandwidth and latency. Download here.
–~~~~~~~~~~~~–
Storage and USB Performance
---
CrystalDiskMark
CrystalDiskMark is a portable storage drive benchmark utility that enables you to measure sequential and random read/write speeds on different block size data. CrystalDiskMark will work with any storage drives including hard drives, SSDs and USB flash drives. Download here.

Sequential Read
Sequential Write
–~~~~~~~~~~~~–
Networking Performance
---
Passmark PerformanceTest 8.0
The PassMark Advanced Network Test (which is part of PerformanceTest) is designed to test the data transfer rate between two computers both of which must be running PerformanceTest. One of the computers must act as the server and will sit waiting for a connection. The other computer acts as a client. It connects to the server machine and sends data to it for the duration of the test. You can download a trial version of PerformanceTest fromhere.
Ethernet (LAN)
–~~~~~~~~~~~~–
Noise, Power Consumption and Temperatures
---
Noise
The amount of noise produced by any computer is a vital consideration for most buyers, even gamers don't really want a noisy PC because less noise is always better. We use an acoustic dBA meter held 2 feet behind our test system at idle and under load to get the idle and load noise levels for the system. For idle we allow the system to sit at the Windows desktop, for load we let Unigine Heaven 4.0 and Prime95 to loop together – we take the acoustic measurements 5 minutes into both of these scenarios.
Power Consumption
To test power consumption we measure the total system power draw during idle and load scenarios. For idle we allow the system to sit at the Windows desktop, for load we let Unigine Heaven 4.0 and Prime95 to loop together – we take the power measurements from the "Killawatt" AC power meter 5 minutes into both of these scenarios at the same point.
Temperatures
To test thermal performance we measure average CPU and GPU core temperatures during idle and load scenarios. For idle we allow the system to sit at the Windows desktop, for load we let Unigine Heaven 4.0 and Prime95 to loop together – we take the temperature measurements from within CPUID HWMonitor 5 minutes into both of these scenarios at the same point. For load we take the average of the maximum temperatures, for idle we take the average of the minimum temperatures.
–~~~~~~~~~~~~–
Final Thoughts
---
Pricing 
Although our review unit is an eye watering £6400, and it IS possible to build something faster for the same money (by choosing cheaper components or cutting corners), what you are getting here is something that has true elements of modding and building craftsmanship to it. All of the components are nothing short of the best in their range, and even the Primary PCIE SSD blows away what almost all gamers would consider as fast benchmarks for high end SSDs. There are no questionable or unbranded parts here, and absolutely no sacrifices have been made. To the contrary, I was excited to see the braided power cables had special holders which meant they could be channelled flat into lanes, which is both very neat and looks great – PC builders take note. For those who are used to water cooling but not the solid acrylic variety, there is something magical about seeing everything fit together so precisely knowing that it is done by hand and that the end result is exquisite. For this much money you could probably put it in a beige box with standard air coolers, a standard SSD and perhaps be able to squeeze in a 3rd Titan X, but in circumstances like this I would see why you would choose this over the latter.
For those of you wanting to price up a system, you can do so here
Overview
The In-Win S-Frame chassis needs a full article review in itself and you can find that here, though In order to get in as much as possible here I will pick out the key aspects of it. First off it is absolutely gorgeous. Beauty is in the eye of the beholder obviously and I have spoken to the odd person who isn't keen, though I personally found it to be brilliant and even more so in the flesh, it reminded me of a "concept PC", melding an interpretation of futuristic design with bleeding edge tech. It shows off everything you want to see and hides (almost) everything. Giving you everything that you need, there were a couple of boxes in with the packaging (one being the motherboard box) which was jam packed full of goodies relating to the system build, including manuals, discs, warranty cards, WiFi antennae and more. Another nice touch was the Cyberpower logo, which has been tastefully placed on the right hand side.
The case itself only comes in 2 flavours, Black/Red and the Black/Gold mix we have here, so worth bearing this in mind if you aren't a fan of those colour sets. Still, nothing from the adventurous amongst us changing this to whatever is desired I guess. The system as a whole (inclusive of case, components, cooling etc) is extremely heavy and is a 2 man job to move around, though this is not something you should envisage moving or transporting back and forwards to LANs. The "open air" top design is a bit unnerving. I couldn't help imagining nightmare situations of dropping a coin in or a stray kitten finding its way in there. As much as is it gloriously seductive, if you have young children or mischievous pets please – make sure they cant get anywhere near this!
CPU performance in our review model came in the form of the top deck i7-5960X with 8 physical cores, 16 threads, a whopping 20MB of L3 Cache and a tasty 20% overclock from the original 3-3.5GHz. In our benches it performed admirably, and we even suspected that there may be even more untapped juice available with a bit of tweaking here and there. Even though this CPU smashed its way through our benches, we reckon that in multi-threaded applications/situations it would perform even better. The CPU and both GPU's are all water cooled in the same loop, and thanks to the radiator and reservoir there is ample surface area to cool the fluid. There's the obvious open air design of the case which assists the already brilliant thermals, but again with a cooling system like this inside it's more of icing on the cake really. The rigid piping has been meticulously crafted with sub millimetre accuracy and the cable management is second to none. I appreciate for this review sample your burning desire will need to be matched by a burning wallet of cash, though as mentioned earlier you can pretty much configure your own so it may be possible to get one within your budget.
An unsung hero of this system is the rather brilliant Asus X99 Deluxe motherboard, giving each one of the Titan X's full 16x worth of bandwidth, WiFi with an incredible range.  A myriad of ports including dual 10GB/s SATA express, 5xPCI 3.0, 14 USB 3 (4 on headers), 8 channel audio and the occasional lifesaver USB BIOS flashback button complete the setup. Our memory slots were filled with 8x4GB sticks of DDR4 totalling 32GB running at 2400MHz. I often get asked what I do personally with so much memory (In my personal rig I have 32GB) as most claim it will sit there not being used. When you have over 16GB like this you should be considering creating a RAM drive/RAMDisk with the rest (a temporary "hard drive" stored in RAM, which is very, VERY fast), especially if you need a temporary location to store your FRAPS/OBS/Shadhowplay replays. As you can imagine, even a 12GB RAM Drive would leave you with plenty of system memory to spare, with 12GB left for filling with your best action shots.
GPU performance is outrageously good as you would expect, and with each Titan X getting the full cover water block treatment coupled with each card being sat in a PCI-E x16 slot, there is more headroom available too. Running GTA5 on our Acer 4k with G-Sync monitor was nothing short of stunning. To say silky smooth is an understatement. Battlefield 4 at 4k with everything maxed was equally as jaw dropping. Worth noting as a side note if you are gaming in 4k, you really shouldn't be using anything higher than 2xAA otherwise it is just wasted performance in my opinion. As for our benchmarked games, even the taxing Metro Last Light was barely a challenge. Should more systems like this come along we may need to start upping our benches to include 4k.
The Intel 750 Series SSD here is nothing short of staggering.  The read and write speeds are as fast as multiple high end SATA3 SSD's combined and provide incredibly sub 10 second cold boot times, with applications and games loading in minimal time too.  In fact when I had this system connected to my home TV I initially found it difficult getting to the UEFI as Windows would be fully loaded by the time my TV had detected signal on its HDMI channel. The 2 SSH (Solid State Hybrid) drives provide a nice balance between traditional extra mechanical storage with the extra pep of the SSD cache, and striping them yields yet more performance, albeit at the cost of data redundancy. What was also nice is that there were 2 extra shelves in the case for future expansion should we ever need it.
The Windows 8.1 installation was completely untouched with the exception of the latest Nvidia drivers and a couple of pieces of benchmarking software, which was nice to see.
For this sample, due to it taking the crown on pretty much every benchmark we've ever had I am compelled to give it the extreme award, though this system in my opinion is more – it's kind of an investment, a rig and a piece of tech art, all rolled into one. Having said all of the above, the variant that we received is not the only model in the range – pretty much every aspect of this system can be tailored for as much or as little spec as you like, you could even go for an AMD GPU setup should you wish. The only things you cannot change in the system components is the architecture (it must be X99), the case and the water cooling, not that it's a bad thing!
The only thing this system is missing is a rotating podium and a spotlight. If you are lucky enough to own one of these then you should really have it where all can see. It gathers admiration and jealousy in equal amounts and is something that should never be relegated to sitting below your desk.
Pros
Excellent cable management
Ultimate component selection
Fantastic water cooling setup
Great overclocking potential
Cons
No optical drive
Case can be awkward when moving, not a good choice for LAN parties
Can cost the same as a new car, depending on spec
"The Infinity Xtreme Halo is without a doubt a complete dream machine. The case is a thing of beauty adorned with some of the best hardware money can buy, with touches that usually only a skilled modder would be capable of."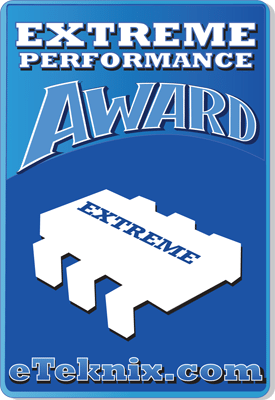 Thanks to CyberPowerPC for providing this review sample.