Introduction
---
For content writers and image editors such as myself, having a large display with a high-resolution to work on and maximise our workspace is virtually a must have and whilst a 1920 x 1080 workspace is usable, it's not ideal – especially when you're referencing from a data sheet or a reviewers guide. There is of course the option to have two displays side by side and this is great as it does give you the capacity to view two separate items at once with loads of space to work in, but having even more space to work within is highly sought after – in short a 1920 x 1080 resolution doesn't quite cut it for me these days.
Going up from a standard HD resolution does mean that we generally have to go up in a physical dimension as well and above 24″ the next step is 27″. At this point we move to the 2560 x 1440 and 2560 x 1600 set of resolutions and whilst there is only a small difference in the height of each resolution, surprisingly there is a bigger gap in the price. This is part of the reason why many users stick to the standard HD workspace. Fortunately for the professional user group the number of monitors coming to market sporting the slightly lower 1440 pixel height is quickly growing and with 4K panels appearing in growing numbers, the price associated with moving up from 1920 x 1080 is dropping at a steady pace.
The Q2770PQU is one of AOC's latest creations and like a number of their other products it's not short of any features. On top of the 2560 x 1440 resolution, the display boasts a 80,000,000 : 1 dynamic contrast ratio, 5ms GTG (Grey to Grey) response time, 300cd/m² brightness, a pixel pitch of 0.233 x 0.233 mm and a super wide viewing angle of 178° (horizontal & vertical) – all from a LED backlit PLS panel. Top this off with a set of built-in 2W speakers, DVI-D, VGA, HDMI and DisplayPort inputs, a height adjustable and rotatable stand and finally a pair of USB2.0 & USB3.0 ports and what you've got is one mouth-watering package.
Like the spec list, the accessory set is by no means short-staffed. A cable for DVI, VGA and DisplayPort connectivity is available along with a 3.5mm to 3.5mm audio cable and a USB3.0 host cable. A regional kettle lead is also bundled in with a CD and user manual to get you up and running.
Aside from the accessories, I will make a note that the box suggests that this is an IPS panel and not a PLS as listed. I can confirm that this is a PLS panel and any sources that list IPS are incorrect – all other listed specifications for this panel are correct – an error was made during the beta stages for this product that resulting in review samples having IPS printed boxes – all final production boxes and sources have been corrected.
–~~~~~~~~~~~~–
A Closer Look
---
Style through simplicity I think is the only way at describing how the Q2770PQU looks. I've seen numerous panels through what I do – be it in a review or at a trade show and whilst some of the designs do grab my attention and get a mental tick in the design box, I still have a love for those panels that are simple and to the point.
Tucked up in the top right hand corner of the bezel AOC have printed on the model name of the screen and with a dark grey print it is subtle enough to blend in without sticking out like a sore thumb.
On the underside of the right hand edge is the controls to run through the OSD and adjust the volume/ input whilst to the far right is a power / standby button which lights up green when the display is turned on.
On the back of the display, AOC have stuck with the simple design – after all the back of the screen is not something that you are going to be looking at each day.
The plastic is finished off with a cloth type pattern giving the plastic a matte finish with glossy edges to the pattern. AOC's logo is embossed to the left and the stand attaches to the body of the screen via the VESA mount. Fitting the screen here allows the monitor to rotate through 90º for a portrait desktop – ideal for me when I'm writing my reviews.
Not every monitor has speakers built-in and to be honest from a personal point of view I'm not a fan of built-in speakers as I love quality sound, but for business applications and for basic audio needs they are a handy asset to have. The Q2770PQU does come with a small set of 2W speakers that are tucked behind the display, audio connectivity is provided through a HDMI input or through the included stereo cable.
On the right hand side of the display are two USB3.0 ports. Of these two ports we can see that one is yellow instead of blue and this is to indicated that this port has a higher power throughput making it ideal for charging your mobile devices.
Moving round and working along the display connectivity, in addition to the two USB3.0 ports on the side of the panel there are two more USB ports although these are of the older 2.0 specification (more suitable for your mouse and keyboard). A USB output is sat alongside the USB2.0 ports and the power cable connects towards the middle of the screen with a power switch sat beside it to cut the power draw close to 0W when the screen is not in use.
Sat in the middle of the screen between the power and display inputs is a small black cover. On removal it appears that this doesn't have any function on this particular model (explaining why it is rather stiff to remove), my guess being that this may be used on another model that uses the same casing, but with a fixed stand as opposed to the height adjustable option that we've got here.
Moving along to the display inputs we have a good selection of options to work with, with all the major standards supported and a pair of 3.5mm audio connections to hand for use with the DVI port (for example) so that the speakers can function.
On the underside of the stand is a single thumb screw that detaches the base plate from the remainder of the arm. This part of the stand comes unattached in the box and is the only bit of construction that is required to get things up and running (aside from connecting a few cables).
–~~~~~~~~~~~~–
On Screen Display (OSD) & AOC Software
---
To accompany the display AOC bundle in a few pieces of software that enhance the user's interaction and experience with the monitor. The three individual programs are the same as those that we found when I looked at the Q2963PM towards the end of last year. Whilst some may have read back then what each of the three programs has to offer, I'll re-iterate them all below as they are rather handy – especially if you use multiple applications at once like I do when writing reviews. Of the three programs, i-Menu is probably the most handy if you've got your monitor positioned out of arms reach for example and on top of that, the software utilises a data connection that runs along the existing display cable, reducing the need for additional cables as a result.
i-Menu gives users the full flexibility to adjust all the display parameters that are adjustable from the OSD as seen below whilst allowing the display resolution and orientation to be altered as well.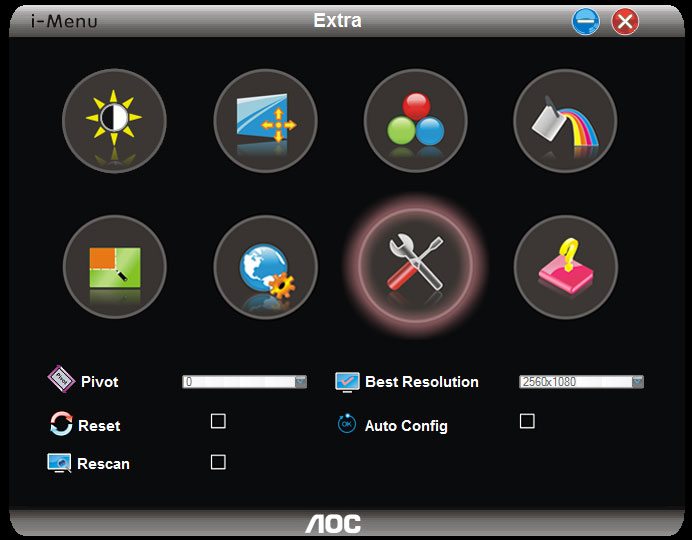 Being able to use multiple applications with ease (ie there is a suitable amount of space within each application to work without too much distraction from toolbars etc) is one of the biggest advantages of going up to a higher display size and consequently a higher resolution. Screen+ makes positioning the application windows even easier by splitting the desktop area into a number of virtual divides based on user preference.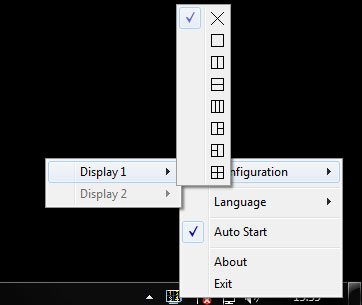 Power saving and reduced running costs are becoming more of a critical factor across the globe and we've been watching this factor grow across the market with devices that consume less power than the previous generation whilst offering up the same amount or more computational power in return. Obviously a monitor is still a monitor, but it still consumes power all the same and reducing the annual running costs can save anything from a few pounds right up to a considerable chunk of money in offices and homes with multiple systems.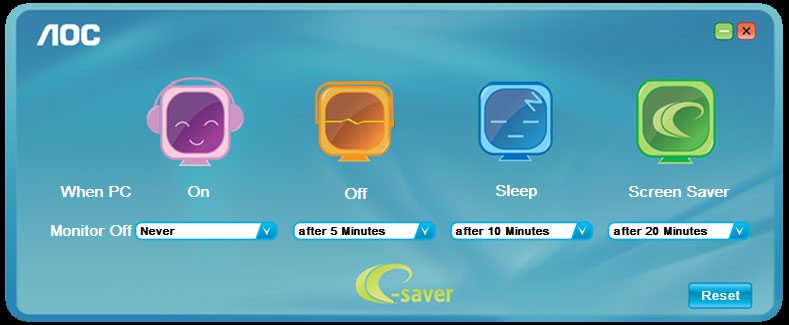 The similarities between the Q2770PQU and some of the other AOC displays is not just limited to the bundled programs. The OSD layout and design is identical to the one that we found on the gaming orientated G2460PQU. Positioned to the bottom of the display the OSD gives all the same options and adjustments as seen through the iMenu application although the orientation and resolution is left to the system end of the display cable.
–~~~~~~~~~~~~–
Usage And Performance
---
Moving up from a 1920 x 1080 resolution to 2560 x 1440 provides a massive amount of additional desktop real-estate to work within. Having used a 2560 x 1600 display prior to this monitor I was a little dubious about the 160px drop in height. The truth is though that I am pleasantly surprised at how little difference this drop in height makes. The width of the display is what makes up the real advantage in moving up from 1920 x 1080. Being able to position two application windows side by side and be able to use them at the same time is the biggest advantage that anyone will find and this is exactly the advantage that I experienced when I took a look at AOC's own Q2963PM last year.
Display wise I found the image to be crisp and clear out of the box with no adjustments needed to suit my personal preference. This panel may not be quite as bright as other monitors out there on the market when set to 100%, but even when left at 50% as it is out of the box, I had no issues in seeing anything during the daytime when the bright sunshine was about (Having a south-facing room means the sun falls straight onto my desk). During the twilight hours I have not felt any glare or strain on my eyes and this is once again without having to adjust the brightness of the panel.
The colours that the Q2770PQU was able to produce are crisp, clear and don't appear washed out. Once again this is something that I have come to expect from AOC and I've not been let down at all. There is however one little niggle that I feel that I have to point out and this is the automatic selection of a display input. When utilising a single monitor for one or two systems you are naturally going to be using more than one display input which is great as most if not all displays that are available today offer up more than one input type. My gripe though is that when you need to reboot one of your systems, most of the time this involves the display output disconnecting for a brief moment whilst the system restarts. The result of this is that the monitor automatically changes the source to the next available, thus disconnecting you from what you was working on. Now I don't have a problem with this feature, however it would be nice if there was the option to disable this as when you're rebooting a system to enter the BIOS for example, the last thing you want to be doing is rushing to change the source. A simple enable / disable auto input selection in the on-screen menus would act as a simple way to resolve the situation.
–~~~~~~~~~~~~–
Final Thoughts
---
Pricing
Like a number of the other monitors that I've reviewed and seen over the last few years, US and UK pricing is not directly relational between one another and this generally does come down to how both of the markets are fulfilled in each region and how well each brand in known as well. AOC fortunately is a well-known and trusted brand on both sides of the Atlantic and this means that we are able to find comfortable price tags attached to the box. In the US stock is a little hard to find at the moment and whilst Amazon.com do have a number of suppliers available, prices of over $800 are to be expected which to be honest is a little steep. TigerDirect on the other hand are a lot more conservative and at $599.99 you can grab yourself a good bargain – thats only around $50 more that AOC's own G2460PQU. The UK does see a few more outlets stocking the Q2770PQU with Scan, Overclockers and Amazon for around £380.
Overview
Depending on what you mainly use your computer for, a 2560 x 1440 may be a suitable path to go down if you're in the market for your first monitor or an upgrade to your existing setup. There is this whole argument circling around that for the purpose of gaming, anything over 1920 x 1080 is a waste of time and money, this being reflected by the 'gaming' monitors on the market that all sport 1920 x 1080 resolutions. In my opinion, the resolution that you opt to use really should be down to your overall budget for a screen that gives a higher resolution and also a graphics card that is able to push out sufficient graphics power at that resolution in your game of choice – ultimately the decision is yours. Aside from gaming there is a whole group of basic system users that are not really going to require anything more than a standard HD resolution for general office type work and web browsing so moving up to a high-resolution display is basically paying high performance prices for general day-to-day tasks.
On the other hand a minimum resolution of 2560 x 1440 has a large number of benefits and there is similarly a huge market of potential users out there that would benefit greatly from the larger working area. This review for example was written using a 2560 x 1440 desktop and I am comfortably able to have two application windows positioned side-by-side on a single display without feeling like I am short of a working area. Obviously there is always the option to go one step further and getting two of these panels and having a multi-screen setup will provide you with a massive desktop to work in. To put this into a quantifiable figure, a dual screen 1920 x 1080 setup will provide you with a workspace containing 4.17 million pixels whilst a dual screen 2560 x 1440 array will give almost double the number of pixels at just over 7.32 million – for a power user this increase is highly sought after and thus the reason why the market for 2560 based screens is a strong as ever.
Resolutions aside and looking at the particular elements of this display, AOC have proved to me multiple times that they know what it takes to produce a quality panel with a crisp, sharp image that will whet the appetite of any enthusiast with ease. The Q2770PQU does fall into this group of panels once again, although to boost the appeal it would be nice to see a couple more features such as a card reader and a better positioning of the USB3.0 ports – tucked right round behind the panel isn't exactly what I would call convenient and easy to access to be honest – why not position them on the side or underside of the bezel?
With 4K panels now appearing with sub-£500 price tags and the price of 2560 x 1440 / 1600 panels in some cases coming relatively close to the same price bracket, there is going to be a lot more competition in the professional monitor range in the coming months. Consequently I do feel that the price of 2560 panels does need to start coming down a shade to keep a gap between them and the 4k market. The Q2770PQU however is a good buy and to be honest they are certainly worth the money if you are going to use them in a professional manner – if it is just gaming or light home office environment that you are in then a 1920 x 1080 panel would be far more suited to your needs. Until AOC release a 4k panel later on this year this is going to sit in my top pick of panels, unless someone comes along with a similar product that carries a bargain price tag that is.
Pros:
Massive 2560 x 1440 resolution
Low 5ms response time
Crisp, clear and vibrant image
well established brand
Cons:
USB3.0 not in a convenient position
Price is getting dangerously close to that of the latest 4k panels.
"Although the price of 4k panels is dropping dramatically, moving up from a resolution of 1920 x 1080 to this new super resolution is still a costly affair. 2560 x 1440 is a sensible half way point to move up to for the prosumer and professional user groups. The amount of desktop space that they provide is near double that of a standard HD panel and for the price you simply can't go wrong."

Thanks to AOC Europe for providing us with this review sample.