Introduction and Packaging
---
MSI is one of those names you think of when compiling a list of computer components. You know that the amount of testing and quality control that goes into each product released will shine through in performance and longevity. MSI produces some of the best looking, cooling, sounding and performing graphics cards on the market thanks to the military grade components that go into every card.
Today on the test bench is the MSI Gaming GTX 980Ti OC edition. MSI has given this card the magic touch with a custom PCB and the epic Twin Frozr V cooling solution. The new design features a brand new fan design called TORX fan, this includes a fan blade that forces air down into the heatsink and out faster than conventional fan blades.
Since the launch of the GTX 980Ti, it has been adored the world over by enthusiasts of both AMD and NVIDIA. Based on a cut-down version of the GM200 GPU found in the Titan X, the GTX 980Ti seemed like it would lag behind the Titan X by around 10%, however, that never was the case. This graphics card pretty much dethroned the Titan X overnight thanks to the sub-vendors ability to customise the cooling designs and huge price difference.
The outer box resembles the rest of the GeForce range of graphics cards made by MSI. A small amount of information on the front with the MSI Gaming dragon dominating in terms of colour.
The back of the box is filled with key MSI features, mainly focusing on the Twin Frozr V cooling solution.
Inside the main box, you'll find a slimmer box containing the accessories.
The accessories include a user guide, product series 'catalogue', driver disc, DVi to VGA adapter and a 6-pin PCIe power to 8-pin adapter.
–~~~~~~~~~~~~–
A Closer Look
---
The card features the newest Twin Frozr V cooling design. The card overall is extremely slim, not even taking up the traditional 2 slot thickness, but the PCB is around 1 inch wider; this means slimmer chassis' may have a problem with compatibility.
The backplate on these cards is gorgeous; a silhouette of the Gaming dragon, intricate cooling vents and screw surrounds are all dotted all around the cover.
At the end of the card, MSI have left the end open to aid with heat dissipation.
Looking at the top of the card, you have the usual Sli connections, full card brace, MSI LED Logo, 2x 8-pin PCIe connection and 3x heat pipes.
The fans included in this design are the new Torx fan design. Every other fan blade is angled steeper to help force the air down faster.
At the business end of the card, there is 1x DVi connector, 3x DisplayPort and 1x HDMi.
–~~~~~~~~~~~~–
Software Overview
---
Manufacturers these days need to find something that can really set them apart from the competition. In recent years, motherboards have had all of the attention, but with graphics cards becoming more advanced, manufacturers are now able to control more through simple applications.
With MSI graphics cards, you can download MSI Afterburner and MSI Gaming App although the gaming app will only function properly with the Gaming range of graphics cards with multiple clock speed settings.
MSI Gaming App is a simple app that intertwines with MSI Gaming motherboards. You can simply choose different clock speed profiles, what the LED does and to adjust the screen appearance for easier viewing.
MSI Afterburner has been around with us for many years and in that time it has come a very long way. In the beginning, it was a humble overclocking feature, now it allows us to not only overclock, but take screen shots or even capture small amounts of video of gameplay.
–~~~~~~~~~~~~–
Test Systems and Procedures
---
Before we delve into any testing we would like to take this opportunity to overview our test system.
Test System
Motherboard – Gigabyte X99-Gaming G1 WiFi LGA 2011-3 Motherboard
Processor – Intel Core i7 5820K at Stock 3.3GHz
RAM – 16

GB (4 X 4GB) Crucial Ballistix Sport DDR4 2400MHz

CPU Cooler – Thermaltake Water 3.0 

with Gelid GC-Extreme

Power Supply – BeQuiet Dark Power Pro 1200W
Main Storage Drive – Crucial M550 512GB
Chassis –

Lian Li T80 Test Bench

Displays – U2868PQU 4K
Operating System – Windows 8.1 Pro 64 Bit
Driver Details
Hardware Used
"Killawatt" style electricity usage meter wall plug
Precision Gold N05CC Decibel meter
Games Used
Batman Arkham Origins
Battlefield 4
Bioshock Infinite
Grand Theft Auto V
Hitman Absolution
Metro Last Light
Tomb Raider
Benchmarks Used
Other Software Used
Unigine Heaven
CPU-ID HWMonitor
TechPowerUp GPU-Z
Luxmark
All tests will be conducted with the latest drivers available; results will be taken from an average of three tests.
–~~~~~~~~~~~~–
3DMark
---
"The new 3DMark includes everything you need to benchmark your hardware. With three all new tests you can bench everything from smartphones and tablets to notebooks and home PCs, to the latest high-end, multi-GPU gaming desktops. And it's not just for Windows. With 3DMark, you can compare your scores with Android and iOS devices too. It's the most powerful and flexible 3DMark we've ever created." From Futuremark.com

The first outing for the MSI card. It didn't really take much to push the GTX 980Ti in front of the Titan X and MSI has given it what it needed. Even in Silent mode, it is more powerful.
–~~~~~~~~~~~~–
Batman: Arkham Knight
---
"Batman: Arkham Knight is an action-adventure video game developed by Rocksteady Studios and published byWarner Bros. Interactive Entertainment for Windows, PlayStation 4 and Xbox One. Based on the DC Comics superhero Batman, it is the successor to Warner Bros. Games Montréal's 2013 video game Batman: Arkham Origins, and the fourth and final installment in the Batman: Arkham series, and the first Arkham game to receive an M rating by the ESRB. Arkham Knight was released worldwide on June 23, 2015." From Wikipedia.
The new Batman game is still rocky to say the least, but the benchmark tool gives a far better indication of the performance of each card.
–~~~~~~~~~~~~–
Battlefield 4
---
"Battlefield 4 is coming to PC, powered by the advanced technology of DICE's proprietary Frostbite 3 engine. Blur the line between game and glory in Battlefield 4. With dynamic destructible environments, vehicular combat, and the chaos of all-out war with 64 players, Battlefield 4 on PC will be an unmatched interactive experience. In addition to its hallmark multiplayer, Battlefield 4 features an intense, dramatic character-driven campaign that starts with the evacuation of American VIPs from Shanghai and follows your squad's struggle to find its way home. There is no comparison. Immerse yourself in the glorious chaos of all-out war, found only in Battlefield." From Battlefield.com
A clear lead for the MSI GTX 980Ti.
–~~~~~~~~~~~~–
Bioshock Infinite
---
"BioShock Infinite is a first-person shooter like you've never seen. Just ask the judges from E3 2011, where the Irrational Games title won over 85 editorial awards, including the Game Critics Awards' Best of Show. Set in 1912, players assume the role of former Pinkerton agent Booker DeWitt, sent to the flying city of Columbia on a rescue mission. His target? Elizabeth, imprisoned since childhood. During their daring escape, Booker and Elizabeth form a powerful bond — one that lets Booker augment his own abilities with her world-altering control over the environment. Together, they fight from high-speed Sky-Lines, in the streets and houses of Columbia, on giant zeppelins, and in the clouds, all while learning to harness an expanding arsenal of weapons and abilities, and immersing players in a story that is not only steeped in profound thrills and surprises, but also invests its characters with what Game Informer called "An amazing experience from beginning to end." From Bioshockinfinite.com
Similar story again in Bioshock.
–~~~~~~~~~~~~–
Grand Theft Auto V
---
"Grand Theft Auto V is an open world, an action-adventure video game developed by Rockstar North and published by Rockstar Games. It was released on 17 September 2013 for the PlayStation 3 and Xbox 360. An enhanced version of the game was released on 18 November 2014 for the PlayStation 4 and Xbox One, and 14 April 2015 for Microsoft Windows. The game is the first main entry in the Grand Theft Auto series since 2008's Grand Theft Auto IV. Set within the fictional state of San Andreas (based on Southern California), the single-player story follows three criminals and their efforts to commit heists while under pressure from a government agency. The open world design lets players freely roam San Andreas, which includes open countryside and the fictional city of Los Santos (based on Los Angeles)." From Wikipedia.
A good 10% lead in Grand Theft Auto.
–~~~~~~~~~~~~–
Hitman Absolution
---
"Hitman: Absolution is the fifth title in the Hitman series by producer, IO Interactive, published by Square Enix and co-published by Eidos. The game was released for thePlayStation 3, Xbox 360 and Microsoft Windows on November 20, 2012. Hitman: Absolution runs on IO Interactive's proprietary Glacier 2 game engine, combining classic Hitman game mechanics with new mechanics." From hitman.wikia.com
The latest round of updates have negatively impacted the MSI card here, dropping it to the bottom of the pack.
–~~~~~~~~~~~~–
Metro Last Light

---
"Metro: Last Light (formerly Metro 2034) is a first-person shooter and horror video game developed by Ukrainian studio 4A Games and published by Deep Silver for Microsoft Windows, PlayStation 3 and Xbox 360. It was released in May 2013. The game is set in a post-apocalyptic world and features a mixture of action-oriented and stealth gameplay. The game exists in the universe of the novel, Metro 2033, and its sequels, written by Russian author, Dmitry Glukhovsky, but does not follow any direct storylines from the books. Metro:Last Light takes place one year after the events of Metro 2033, proceeding from the canonical ending from the novel, ending where Artyom chose to call down the missile strike on the Dark Ones.Metro: Last Light features technology which boasts of lighting effects and improved physics claimed to set a new graphical benchmark on the PC and consoles." From Wikipedia.org
Straight back to the top with a simply huge lead of the competition.
–~~~~~~~~~~~~–
Tomb Raider
---
"On 5 March 2013, Square Enix released Tomb Raider, billed as a reboot of the franchise. In Tomb Raider, the player is confronted with a much younger Lara Croft who is shipwrecked and finds herself stranded on a mysterious island rife with danger, both natural and human. In contrast to the earlier games Croft is portrayed as vulnerable, acting out of necessity, desperation and sheer survival rather than for a greater cause or personal gain." From Wikipedia.org
A good lead again in Tomb Raider.
–~~~~~~~~~~~~–
Unigine Valley
---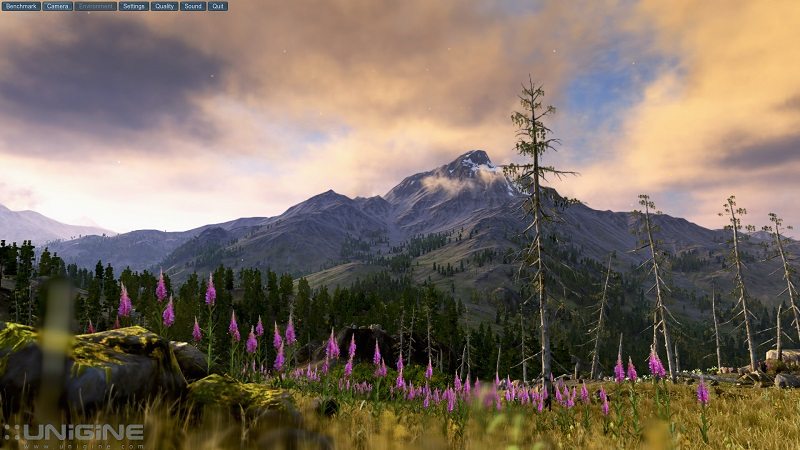 "Valley Benchmark is a new GPU stress-testing tool from the developers of the very popular and highly acclaimed Heaven Benchmark. The forest-covered valley surrounded by vast mountains amazes with its scale from a bird's-eye view and is extremely detailed down to every leaf and flower petal. This non-synthetic benchmark powered by the state-of-the art UNIGINE Engine showcases a comprehensive set of cutting-edge graphics technologies with a dynamic environment and fully interactive modes available to the end user." From Unigine.com.
Unigine Valley is a good test for the GPU performance and the GTX 980Ti dominating once again.
–~~~~~~~~~~~~–
Compute Performance
---
LuxMark is a OpenCL benchmark tool. The idea for the program was conceived in 2009 by Jean-Francois 'Jromang' Romang. The idea was quite simple, wrap SLG inside an easy to use graphical user interface and use it as a benchmark for OpenCL. From LuxRender.net.
MSI has done something special here, not only dominating the AMD range, but both the reference GTX 980Ti and Titan X by some margin.
–~~~~~~~~~~~~–
Overclocking and Overclocked Performance
---
From experience with the reference GTX 980Ti, overclocking was fruitful, not only in raw MHz, but also performance. Let's see if this card can pull off a similar feat.
Pushing this card for all it had on stock voltage, I managed to reach a stable boost overclock of 1388MHz. I did notice that the boost clock was then boosted AGAIN to around 1527MHz as reported by both the Gaming App and GPUz sensors page.
 3DMark Fire Strike
A custom overclock has just made an already great card better.
–~~~~~~~~~~~~–
Noise, Power Consumption and Temperatures

---
Noise
Everyone has their own reasonable noise level when it comes to comes to components in a computer. Some can handle all fans at 100% load to keep temperatures down, some want a completely silent computer.
MSI has produced a great cooling design here, especially so considering how thin the card is.
Power Consumption
With electricity becoming increasingly expensive across most parts of the world the need for computer components to become power efficient has never been more relevant. Graphics cards are often the most power-hungry components inside a desktop system so having an efficient graphics card is very important to keeping power bills under control. Power is often correlated to heat and so lower power consumption means a graphics card is likely to run slightly cooler and put out less heat into your system meaning your other components will run cooler with improved longevity. AMD and Nvidia have both made power consumption an integral part of the way graphics cards dynamically overclock so the need for graphics card vendors to use efficient VRM and PCB designs is becoming important to maximise performance. We take power readings after 5 minutes of two different load scenarios: desktop idle and Unigine Heaven load.
I guess the card had to fail at some point, with a simply HUGE power increase.
Temperatures
The cooling solution which graphics card vendors choose to implement is one of the main differences that consumers have to contend with when choosing a graphics cards. Apart from their acoustic properties, the thermal properties of graphics card coolers are extremely important. Lower temperatures are always better and with AMD and Nvidia opting to use dynamic overclocking algorithms that take temperature into account it is important that graphics card vendors use high performance cooling solutions in order to maximise performance. The era of graphics cards reaching dangerous temperatures are now in the past but the importance of lower temperatures still remains. Lower temperatures mean better stability, longer component longevity and lower fan speeds .We take temperature readings after 5 minutes of two different load scenarios: desktop idle and Unigine Heaven load. We always record actual temperatures and make a note of the ambient; in the case where more than 1 GPU is used an average is created.
NVIDIA has a temperature cap of 83°c, as seen with the Titan X and reference GTX 980Ti, however, MSI managed to keep not only the stock card, but overclocked card chilled to almost the same temperature.
–~~~~~~~~~~~~–
Final Thoughts
---
Price
The MSI Gaming GTX 980Ti OC is currently available from OverclockersUK for £575.99, in the US, you can get this from Newegg.com for $679.99; this isn't to be confused with the slightly cheaper LE edition.
Overview
The GTX 980Ti  is an absolutely storming card, yet MSI has made it more powerful by adding the Military Class components and optimised manufacturing process. Thanks to the GTX 980Ti being based on the Maxwell architecture, it is ready for DX12 and Windows 10, features DSR, G-Sync and Gameworks technology; which really brings some amazing features to games and the upcoming Virtual Reality.
The card looks great with the red and black contrast on the Twin Frozr V cooler, the main red ring and small red dashes add enough colour to stand out, but not too much to be in your face. The overall design of the card is also very good, the fact that the overall depth (PCB – top of fans) of the card is less than two slots makes this a great option for SLI thanks to the additional gap for air movement. One thing I really like about the looks of this card is the incorporation of the backplate, not only does it look good, but it adds thermal cooling for the rear components.
Well it put be in my seat, we already knew the GTX 980Ti was powerful, but this just puts it into a whole new league. It now completely dominates the Titan X, even with the limit of 6GB VRAM; that's not enough hinder it in the slightest. Once overclocked, it turns from domination to complete humiliation. Okay, you can overclock the Titan X too, but from a card that costs around 20% less, this makes the perfect option for gamers.
MSI bundle in the Gaming App with this model of the GTX 980Ti. The Gaming App opens up the card and allows you to over/underclock the card to 3 presets, although I don't see why you would spend £575 on a graphics card and cut back the performance by using the Silent mode. I can see features like this becoming more common place with graphics cards, especially if you can seriously cut down the power consumption for the Silent mode.
There is just one bad thing I can find with this card; because MSI have used a custom PCB to shorten the overall length to fit under the Twin Frozr V cooling shroud, the PSB has had to undergo a widening process to fit all of the components on. This has made the PCB around 1 inch wider than usual. If you were using just a single card or purchased two of the same card; this wouldn't be an issue. However, if you already purchased a standard width GTX 980Ti (or two if you had the money), using a rigid SLI bridge would be impossible.
Pros
Extremely quiet
Great cooling
DX12 compliant
Great price
Well executed Gaming App
Cons
Wider PCB can prove troublesome for some chassis and SLI compatibility
"A great graphics card made even better thanks to an awesome MSI makeover. This is a card that is definitely worth the premium over the reference GTX 980Ti.."
Thank you to MSI for providing this review sample.