Introduction and Packaging
---
The GTX 980Ti, the card that has taken the world by storm, is finally to have manufacturers install their own custom cooling solutions. Since the launch of the GTX 980Ti, it has been adored the world over by enthusiasts of both AMD and NVIDIA. Based on a cut-down version of the GM200 GPU found in the Titan X, the GTX 980Ti seemed like it would lag behind the Titan X by around 10%, however, that never was the case. This graphics card pretty much dethroned the Titan X overnight thanks to the sub-vendors ability to customise the cooling designs and huge price difference.
Today in the test bench is the Inno3D iChill x3 Ultra GTX 980Ti. This card is an absolute monster, measuring 300mm long and 3 slots wide; it's not for the small case. We know that the GTX 980Ti is a great card, but Inno3D has taken the reference PCB to a whole new level with upgraded components. Fitted to this card is the renowned iChill Ultra x3 Airboss cooling design, which is completely modular and covered by warranty to take apart and clean; assuming you don't take off the heat sink.
We already know that the GTX 980Ti has outstanding performance, but let's see if Inno3D has added to the performance in today's review.

The outer box is very plain, with minimal branding. On the right side is what you can find inside the box.
The rear of the box is very generic, multiple languages stating the features.
The inner box is of strong construction with just the iChill logo on top and Inno3D logo on the base.
Accessories include 1x 3Dmark licence, 1x mouse mat, 1x Molex to 6-pin adapter, 1x VGA to DVI connector, 1x iChill case badge, 1x power supply guideline leaflet, 1x quick installation manual and 1x driver disc.
–~~~~~~~~~~~~–
A Closer Look
---
This card is based on the reference design PCB with modifications to the components by Inno3D to give it the best possible performance. The cooling design is very striking and for the fans that like to take things apart; this cooling design is modular.
Inno3D has included the iChill backplate to add strength, style and cooling to the rear components.
The cooling solution is very large, hanging over the end of the card by around 1 inch. The heatsink is left exposed here to aid in heat dissipation.
Looking down on top of the card, there is no PCB strengthening bracket that we are used to seeing on such long cards, but the backplate takes the brunt of the weight. There is a 1x 8 pin and 1x 6 pin PCIe power connections and 2 SLI fingers for multi-card SLI set-ups.
At the business end of the card, there is 1x DVi connector, 3x DisplayPort and 1x HDMi.
–~~~~~~~~~~~~–
Test Systems and Procedures
---
Before we delve into any testing we would like to take this opportunity to overview our test system.
Test System
Motherboard – Gigabyte X99-Gaming G1 WiFi LGA 2011-3 Motherboard
Processor – Intel Core i7 5820K at Stock 3.3GHz
RAM – 16

GB (4 X 4GB) Crucial Ballistix Sport DDR4 2400MHz

CPU Cooler – Thermaltake Water 3.0 

with Gelid GC-Extreme

Power Supply – BeQuiet Dark Power Pro 1200W
Main Storage Drive – Crucial M550 512GB
Chassis –

Lian Li T80 Test Bench

Displays – AOC U2868PQU 4K
Operating System – Windows 8.1 Pro 64 Bit
Driver Details
Hardware Used
"Killawatt" style electricity usage meter wall plug
Precision Gold N05CC Decibel meter
Games Used
Batman Arkham Knight
Battlefield 4
Bioshock Infinite
Grand Theft Auto V
Hitman Absolution
Metro Last Light
Tomb Raider
Benchmarks Used
Other Software Used
Unigine Heaven
CPU-ID HWMonitor
TechPowerUp GPU-Z
Luxmark
All tests will be conducted with the latest drivers available; results will be taken from an average of three tests.
–~~~~~~~~~~~~–
3DMark
---
"The new 3DMark includes everything you need to benchmark your hardware. With three all new tests you can bench everything from smartphones and tablets to notebooks and home PCs, to the latest high-end, multi-GPU gaming desktops. And it's not just for Windows. With 3DMark, you can compare your scores with Android and iOS devices too. It's the most powerful and flexible 3DMark we've ever created." From Futuremark.com

Straight into Firestrike and we can see that this model has what it takes to take the top spot from the Titan X.
–~~~~~~~~~~~~–
Batman: Arkham Knight
---
"Batman: Arkham Knight is an action-adventure video game developed by Rocksteady Studios and published byWarner Bros. Interactive Entertainment for Windows, PlayStation 4 and Xbox One. Based on the DC Comics superhero Batman, it is the successor to Warner Bros. Games Montréal's 2013 video game Batman: Arkham Origins, and the fourth and final installment in the Batman: Arkham series, and the first Arkham game to receive an M rating by the ESRB. Arkham Knight was released worldwide on June 23, 2015." From Wikipedia.
Batman is still buggy, but the built-in benchmark gives a great indication of the performance levels of each card.
–~~~~~~~~~~~~–
Battlefield 4
---
"Battlefield 4 is coming to PC, powered by the advanced technology of DICE's proprietary Frostbite 3 engine. Blur the line between game and glory in Battlefield 4. With dynamic destructible environments, vehicular combat, and the chaos of all-out war with 64 players, Battlefield 4 on PC will be an unmatched interactive experience. In addition to its hallmark multiplayer, Battlefield 4 features an intense, dramatic character-driven campaign that starts with the evacuation of American VIPs from Shanghai and follows your squad's struggle to find its way home. There is no comparison. Immerse yourself in the glorious chaos of all-out war, found only in Battlefield." From Battlefield.com
Battlefield 4 just proves that this card is better than the Titan X.
–~~~~~~~~~~~~–
Bioshock Infinite
---
"BioShock Infinite is a first-person shooter like you've never seen. Just ask the judges from E3 2011, where the Irrational Games title won over 85 editorial awards, including the Game Critics Awards' Best of Show. Set in 1912, players assume the role of former Pinkerton agent Booker DeWitt, sent to the flying city of Columbia on a rescue mission. His target? Elizabeth, imprisoned since childhood. During their daring escape, Booker and Elizabeth form a powerful bond — one that lets Booker augment his own abilities with her world-altering control over the environment. Together, they fight from high-speed Sky-Lines, in the streets and houses of Columbia, on giant zeppelins, and in the clouds, all while learning to harness an expanding arsenal of weapons and abilities, and immersing players in a story that is not only steeped in profound thrills and surprises, but also invests its characters with what Game Informer called "An amazing experience from beginning to end." From Bioshockinfinite.com
Top of the charts again.
–~~~~~~~~~~~~–
Grand Theft Auto V
---
"Grand Theft Auto V is an open world, an action-adventure video game developed by Rockstar North and published by Rockstar Games. It was released on 17 September 2013 for the PlayStation 3 and Xbox 360. An enhanced version of the game was released on 18 November 2014 for the PlayStation 4 and Xbox One, and 14 April 2015 for Microsoft Windows. The game is the first main entry in the Grand Theft Auto series since 2008's Grand Theft Auto IV. Set within the fictional state of San Andreas (based on Southern California), the single-player story follows three criminals and their efforts to commit heists while under pressure from a government agency. The open world design lets players freely roam San Andreas, which includes open countryside and the fictional city of Los Santos (based on Los Angeles)." From Wikipedia.
Similar story in GTA V.
–~~~~~~~~~~~~–
Hitman Absolution
---
"Hitman: Absolution is the fifth title in the Hitman series by producer, IO Interactive, published by Square Enix and co-published by Eidos. The game was released for thePlayStation 3, Xbox 360 and Microsoft Windows on November 20, 2012. Hitman: Absolution runs on IO Interactive's proprietary Glacier 2 game engine, combining classic Hitman game mechanics with new mechanics." From hitman.wikia.com
Hitman has lately reacted badly to updates and has negatively pushed the GTX 980Ti to the bottom of the chart.
–~~~~~~~~~~~~–
Metro Last Light

---
"Metro: Last Light (formerly Metro 2034) is a first-person shooter and horror video game developed by Ukrainian studio 4A Games and published by Deep Silver for Microsoft Windows, PlayStation 3 and Xbox 360. It was released in May 2013. The game is set in a post-apocalyptic world and features a mixture of action-oriented and stealth gameplay. The game exists in the universe of the novel, Metro 2033, and its sequels, written by Russian author, Dmitry Glukhovsky, but does not follow any direct storylines from the books. Metro:Last Light takes place one year after the events of Metro 2033, proceeding from the canonical ending from the novel, ending where Artyom chose to call down the missile strike on the Dark Ones.Metro: Last Light features technology which boasts of lighting effects and improved physics claimed to set a new graphical benchmark on the PC and consoles." From Wikipedia.org
Back to the top in Metro Last Light.
–~~~~~~~~~~~~–
Tomb Raider
---
"On 5 March 2013, Square Enix released Tomb Raider, billed as a reboot of the franchise. In Tomb Raider, the player is confronted with a much younger Lara Croft who is shipwrecked and finds herself stranded on a mysterious island rife with danger, both natural and human. In contrast to the earlier games Croft is portrayed as vulnerable, acting out of necessity, desperation and sheer survival rather than for a greater cause or personal gain." From Wikipedia.org
A good lead again in Tomb Raider, first place across all resolutions.
–~~~~~~~~~~~~–
Unigine Valley
---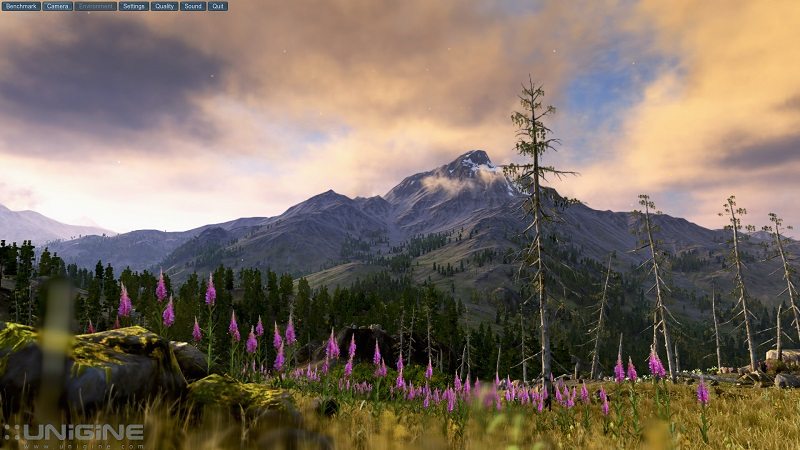 "Valley Benchmark is a new GPU stress-testing tool from the developers of the very popular and highly acclaimed Heaven Benchmark. The forest-covered valley surrounded by vast mountains amazes with its scale from a bird's-eye view and is extremely detailed down to every leaf and flower petal. This non-synthetic benchmark powered by the state-of-the art UNIGINE Engine showcases a comprehensive set of cutting-edge graphics technologies with a dynamic environment and fully interactive modes available to the end user." From Unigine.com.
Unigine Valley is a good test for the GPU performance and the GTX 980Ti dominating once again.
–~~~~~~~~~~~~–
Compute Performance
---
LuxMark is a OpenCL benchmark tool. The idea for the program was conceived in 2009 by Jean-Francois 'Jromang' Romang. The idea was quite simple, wrap SLG inside an easy to use graphical user interface and use it as a benchmark for OpenCL. From LuxRender.net.
Inno3D has done something special here, not only dominating the AMD range, but both the reference GTX 980Ti and Titan X by some margin.
–~~~~~~~~~~~~–
Overclocking and Overclocked Performance
---
From experience with the reference GTX 980Ti, overclocking was fruitful, not only in raw MHz, but also performance. Let's see if this card can pull off a similar feat.
This card managed a pretty respectable overclock of 1364MHz boost. Now recently we've noticed discrepancies with overclocks and actual recorded clock speeds; so in the GPUz sensors screen, we can see the overclock actually hitting a constant 1452.3MHz.
 3DMark Fire Strike
Once overclocked, it gives the card an even larger lead over the Titan X.
–~~~~~~~~~~~~–
Noise, Power Consumption and Temperatures

---
Noise
Everyone has their own reasonable noise level when it comes to comes to components in a computer. Some can handle all fans at 100% load to keep temperatures down, some want a completely silent computer.
The triple fans run at such a low rpm that they are barely audible.
Power Consumption
With electricity becoming increasingly expensive across most parts of the world the need for computer components to become power efficient has never been more relevant. Graphics cards are often the most power-hungry components inside a desktop system so having an efficient graphics card is very important to keeping power bills under control. Power is often correlated to heat and so lower power consumption means a graphics card is likely to run slightly cooler and put out less heat into your system meaning your other components will run cooler with improved longevity. AMD and Nvidia have both made power consumption an integral part of the way graphics cards dynamically overclock so the need for graphics card vendors to use efficient VRM and PCB designs is becoming important to maximise performance. We take power readings after 5 minutes of two different load scenarios: desktop idle and Unigine Heaven load.
The additional 30W TDP pushes the Inno3D card to the AMD side of the chart.
Temperatures
The cooling solution which graphics card vendors choose to implement is one of the main differences that consumers have to contend with when choosing a graphics cards. Apart from their acoustic properties, the thermal properties of graphics card coolers are extremely important. Lower temperatures are always better and with AMD and Nvidia opting to use dynamic overclocking algorithms that take temperature into account it is important that graphics card vendors use high performance cooling solutions in order to maximise performance. The era of graphics cards reaching dangerous temperatures are now in the past but the importance of lower temperatures still remains. Lower temperatures mean better stability, longer component longevity and lower fan speeds .We take temperature readings after 5 minutes of two different load scenarios: desktop idle and Unigine Heaven load. We always record actual temperatures and make a note of the ambient; in the case where more than 1 GPU is used an average is created.
Thanks to that large cooler, it does well to keep the card chilled.
–~~~~~~~~~~~~–
Final Thoughts
---
Price
The Inno3D x3 Ultra GTX 980Ti is currently available from OverclockersUK for £529.99. In the US, it is not available from our recommended retailers, but it is poised to be around $625.
Overview
I was a bit confused getting this card, it looked like something 15-year-old me would have jumped at the first sight of it due to the sharp lines and massive cooling design that resembles something alien. Yet this actually appealed to my more hands-on side thanks to the ability to take it apart and clean it.
Aesthetically speaking, it's a very acquired taste; the sharp lines are enough to put some off, especially with some of the shroud covering the fans. I personally really like the colour combination, this could fit in really well with a steampunk themed build thanks to the bronze metal cover. One thing that I really like about this is the fact that you can almost fully strip it down and clean the dust out of the nooks and crannies. Okay, some other manufacturers offer removable fans, but this is a whole new level of removal.
Thanks to the iChill x3 cooling design, it is a little on the long side at 300mm and tall at 3 slots, but by it does the job and does it well. It kept the temperatures down and the audio performance is one of the best I've recorded.
The performance was good, no better than good, it was amazing! It trumped the reference Titan X easily in all of the tests and then went on to dominate once overclocked. That power does come at a price though, this card is rated at 280W TDP at factory, so once overclocked that would be increased; this shone through with some of the highest ever Maxwell recorded temperatures here at eTeknix.
Now all products have faults, no matter how good they are, this graphics card in particular is extremely heavy and because the weight is distributed way past the PCIe slot; it could prove problematic for some builds.
Pros
Extremely quiet
Great cooling
DX12 compliant
Low price for a non-reference design card
Cons
Acquired taste for the cooling design
More power hungry than other models
"Huge graphics performance, huge cooling design, huge heat threshold for a not so huge price; the Inno3D iChill x3 Ultra GTX980Ti ticks all of the right boxes."
Thank you to Inno3D for providing this review sample.