Introduction
---
The GTX 970 has been with us for around a year now and in that time it has cemented itself as possibly one of the best Maxwell-based cards available. Obviously the Titan X is the most powerful and the GTX 980Ti is the obvious option if you have £600 to spend, but the GTX 970 is the right amount of power to sustain consumers into the next generation of cards without taking a massive hit come resale when Pascal and HBM v2 is released.
Today in the test bench is the Gainward Phoenix GTX 970. It's nice to see manufacturers still pushing this lower line considering how popular the GTX 980Ti has been and how saturated the market already is with competing cards.
I can't really go into a GTX 970 review without at least touching on the issues that were present with the VRAM and miss advertised specifications. When it was first released, the GTX 970 seemed like the perfect card, 980 performance at a reduced price, then reviewers and consumers started to notice the drop in performance at high VRAM loads even though it was well within the VRAM limit of the card. NVIDIA decided to utilise an altered DDR5 memory architecture on this card which increased the speed of the first 3.5GB, but severely hindered the last 512MB. Along with that, the cores, ROP and TMU's were all advertised higher than they really were. All that being said, the GTX 970 is still a cracking card and one of my all time favourites.
Packaging and accessories
When I opened the shipping box, I was surprised to how large the actual retail box was; the bright colours are certainly enticing.
The rear of the box is simple with key information listed. Some of the more important features regarding NVIDIA and the power of the GTX 970 are outlined with graphics.
The accessories are the usual lot, molex to PCIe 6-pin connector, DVI to VGA adapter, driver disc and installation manual.

–~~~~~~~~~~~~–
A Closer Look
---
It's quite a striking card compared to what Gainward generally produce with the Phantom range. This follows a similar design as the other Phoenix graphics cards with a slashed red and white colour scheme.
I'm surprised Gainward hasn't installed a backplate considering how many consumers consider this when buying. It would also hide the hideous brown PCB.
LOOK AT HOW MUCH PCB IS SPARE!!! Seriously, the GTX 970 is an extremely compact card, but adding 2-inches after the power connectors just seems completely pointless. At least Gainward thought about access with the power connectors and left cut-outs for fingers to get in.
Something I like about Gainward is the resilience to keep using miniDP. Along with two miniDP, there is 1 HDMI and 1 DVI port.
–~~~~~~~~~~~~–
Testing & Methodology
Before we delve into any testing we would like to take this opportunity to overview our test system. All tests will be conducted with the latest stable drivers available, with results will be taken from an average of three tests. All tests will be conducted using the highest factory setting if multiple options are available.
Hardware
Drivers
Software
Battlefield 4
Bioshock Infinite
Grand Theft Auto V
Metro Last Light
Tomb Raider
Synthetic Benchmarks
During our testing, we use a range of readily available synthetic benchmarking tools which are free to download from the respective websites. We do this so the readers can download and compared to our results. Download links are contained within the "Software" subheading.
Noise
Everyone has their own reasonable noise level when it comes to comes to components in a computer. Some can handle all fans at 100% load to keep temperatures down, some want a completely silent computer.
Power Consumption
With electricity becoming increasingly expensive across most parts of the world the need for computer components to become power efficient has never been more relevant. Graphics cards are often the most power-hungry components inside a desktop system so having an efficient graphics card is very important to keeping power bills under control. Power is often correlated to heat and so lower power consumption means a graphics card is likely to run slightly cooler and put out less heat into your system meaning your other components will run cooler with improved longevity. AMD and Nvidia have both made power consumption an integral part of the way graphics cards dynamically overclock so the need for graphics card vendors to use efficient VRM and PCB designs is becoming important to maximise performance. We take power readings after 5 minutes of two different load scenarios: desktop idle and Unigine Heaven load.
Temperatures
The cooling solution which graphics card vendors choose to implement is one of the main differences that consumers have to contend with when choosing a graphics cards. Apart from their acoustic properties, the thermal properties of graphics card coolers are extremely important. Lower temperatures are always better and with AMD and Nvidia opting to use dynamic overclocking algorithms that take temperature into account it is important that graphics card vendors use high performance cooling solutions in order to maximise performance. The era of graphics cards reaching dangerous temperatures are now in the past but the importance of lower temperatures still remains. Lower temperatures mean better stability, longer component longevity and lower fan speeds .We take temperature readings after 5 minutes of two different load scenarios: desktop idle and Unigine Heaven load. We always record actual temperatures and make a note of the ambient; in the case where more than 1 GPU is used an average is created.
–~~~~~~~~~~~~–
Synthetic Benchmarks
---
3D Mark
---
Well wow, Gainward must have worked some magic on the PCB components and squeezed a little more from the core to be within touching distance of the GTX 980.
Well that took a sharp turn, from being close to the GTX 980 to now under the older GTX 970.
Moving back ahead of the older GTX 970, but not by much.
Unigine Valley
---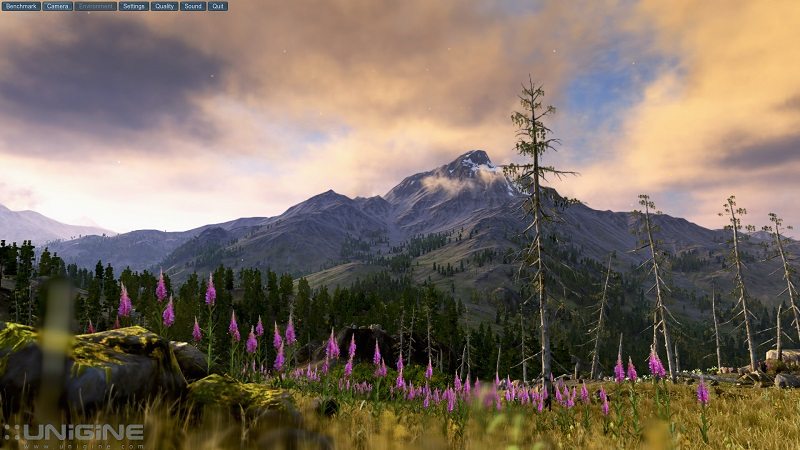 Unigine Valley offers a better perspective into the relative power of the graphics card without focusing too much on playable FPS. Here it shows the GTX 970 roughly where I expected it to perform, better than the older GTX 970, but not as fast as the R9 390.
When pushed up to 1440p, the performance between the two GTX 970's becomes negligible.
A similar story here at 4K.
Compute Performance
---
The GM204 Maxwell core performing well in the Luxmark test.
–~~~~~~~~~~~~–
Battlefield 4
---
BF4 is a great all arounder game to test on. At 1080p, the Phoenix 970 manages to achieve over 100FPS.
Moving up to 1440p and the strain starts to show, but the Phoenix 970 just manages to hit 62FPS; perfect performance at this resolution.
As you would expect, 4K is just too much for both of the 970's and even with quality settings changes, 60FPS would still be out of reach.
–~~~~~~~~~~~~–
Bioshock Infinite
---
Bioshock is still a demanding game and it shows with the lower than average Minimum FPS. The Phoenix 970 provides great headroom over 60FPS with a score of 116.
1440p is a piece of cake for most of these cards and the Phoenix 970 can hit 77FPS with ease.
Still holding towards the top of our chart, even at 4K.
–~~~~~~~~~~~~–
Grand Theft Auto V
---
Grand Theft Auto proves to be a demanding game with the high settings chosen, only just making 72 FPS at 1080p.
Even the mighty GM204 core can't help now, with a score of just 51FPS. However, lowering the graphical settings would yield over 60FPS.
Again, 4K being too much for all of these cards.
–~~~~~~~~~~~~–
Metro Last Light
---
A nice round 100FPS for the Phoenix 970 at 1080p in Metro.
Even at 1440p, the Phoenix 970 hits 65FPS. This is a bit too close for comfort for some, though so you might consider dropping a few settings to get a safety buffer of 10FPS.
Scraping by at 4K, but still better than the other cards tested.
–~~~~~~~~~~~~–
Tomb Raider
---
Tomb Raider is a relatively easy game for most graphics cards, with each tested card hitting at least 100FPS.
Even at 1440p, 91FPS is achievable.
If some of the visual qualities were lowered, 60 FPS could be achieved.
–~~~~~~~~~~~~–
Overclocking and Overclocked Performance
---
I was actually really pleased with the overclock on this, a huge 153MHz over the stock boost speed to a huge 1457MHz.
3DMark Fire Strike
The overclock had an adverse effect on during the Firestrike benchmark, a small blip really.
When the stress is cranked up to 1440, the Phoenix 970 is nipping at the heels of the GTX 980.
Even at 4K, the Phoenix 970 is still performing well.
–~~~~~~~~~~~~–
Noise, Power Consumption and Temperatures
---
Noise
Something this model has over the more renowned Phantom is the 0db operation of the fans. This means that at idle you can't hear a thing. On this card, the combination of larger heat sink and higher air flow fans means a lower operating speed and lower noise at load.
Power Consumption
The best thing about the Maxwell range is the incredibly low power requirement for the performance. At just 244W at load, that's just 10W more than a GTX 980.
Temperatures
73°c isn't amazing, but it's well within the safety limits of the Maxwell core. The increase to 74°c once overclocked just goes to show how good this cooling solution is.
–~~~~~~~~~~~~–
Final Thoughts
---
Price
The Gainward Phoenix GTX 970 is currently available in the UK from SCAN for £273.56 and for an estimated $360 in the US. Stock isn't currently available but from experience, Gainward tend to supply the US later than the EU with new cards.
Overview
There we have it, probably the last new GTX 970 to be produced until Pascal is released next year. The sub £300 market is saturated with many options from both AMD and NVIDIA and the bad press of the GTX 970 has put off most manufacturers. Thankfully Gainward is keeping the competition on their toes and should keep pricing and innovation competitive for the coming months.
We're really at the point of graphics card design where everything looks the same, a three fan design will be around as long as any other three fan card, same with dual fans and so on. However, Gainward has managed to unleash a little more creativity than we know them for with the Phantom range and produce something that is extremely pleasing to look at.
One thing I noticed straight away when I picked the card up was just how light it was, I've picked up heavier ITX orientated graphics cards, yet the cooling is still superb and ultra quiet. The quality feels cheap due to the plastic shroud, but this helps keep the weight down and it's not every day you hold your graphics card.
Gainward has managed to squeeze out slightly more performance out of this compared to other GTX 970's available. It just goes to show that by spending a little more time on the designing and production process, you can increase the performance. As we know from experience with the GTX 970, it has more than enough power to play all games at 1080p and maximum settings and with some quality settings decreased, you can hit over 60FPS at 1440p.
Pros
Extremely cool and quiet
Good power increase of other GTX 970's
Unique styling
Cons
Neutral
Longer than needed PCB detracts from finish
"The Gainward Phoenix GTX 970 is another great option if you're planning on joining the Maxwell family and offers unique design compared to the dreary black and red designs that has saturated the market."
Thank you to Gainward for providing this review sample.