Enermax are a company we work more closely with these days because they are a great all-round company with strong coolers, power supplies and cases. Enermax's latest PC case is the Fulmo ST which they have officially announced today. We had a fantastic opportunity to get an exclusive look at the Fulmo ST all last week at Insomnia i48. You can see a picture of me below with the Fulmo ST on display at Insomnia i48 last week and a video below with us briefly covering the new case from Enermax before it was released (skip to 2:19 for the Fulmo ST).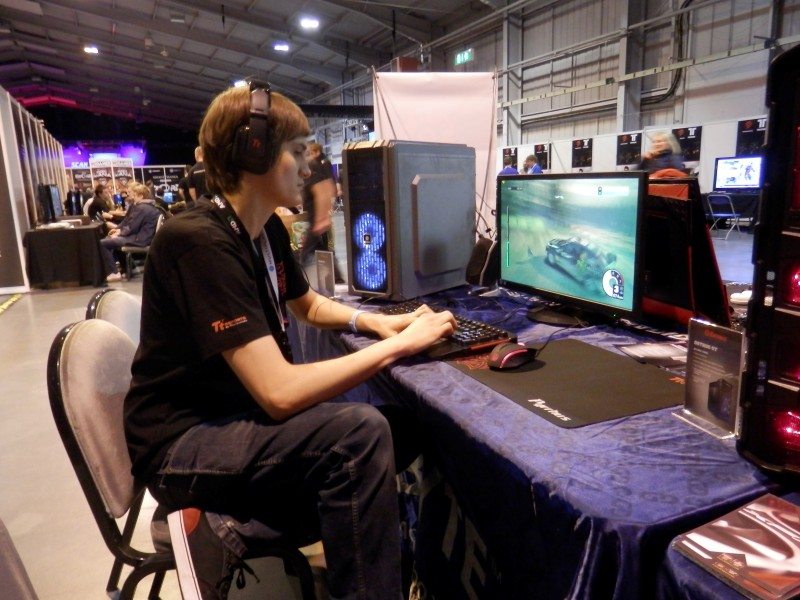 [youtube]http://www.youtube.com/watch?v=rOFKfd4Ln7A[/youtube]
The new case from Enermax features a meshed front panel, an acrylic side window and 32mm of cable routing/management clearance behind the motherboard tray to help you get a clean looking build with high airflow. Four USB ports (2 X USB 3.0 and 2 X USB 2.0), audio I/Os, a fan speed and LED adjustment controller and the usual switches make up the top I/O functionality. Expandability options include eight 3.5″ or 2.5″ drives, 7+1 PCI expansion slots, a 60mm top clearance area for a 240mm or 280mm radiator and support for up to 10 fans.
Removing the top hard drive cage will allow extra clearance for installing graphics cards, rising from 286mm to 412mm, but you will lose four hard drive slots in the process. The bottom power supply mount features rubber pads and a removable dust filter. Enermax have also come up with their own tool-free 5.25″ drive installation procedure that they are calling "SlideIn Locker".
CPU cooler clearance is up to 185.3 mm meaning you will be able to fit almost every CPU cooler on the market in this case including monsters like the Archon SB-E X2 from Thermalright.
Enermax will be making the Fulmo ST available in gun metal grey or jet black and it will be available very soon. Pricing is unconfirmed but this is meant to be a budget-conscious mid tower case design so expect competitive pricing. More details can be found on the product page. Look out for a review as we are sure to have one coming for you very soon!
[youtube]http://www.youtube.com/watch?v=mVfoDkWx12g[/youtube]