Introduction
---
Although Boston may at first not be familiar to many, rest assured with a presence in America, UK, Germany and India this is a truly global company.  They supply one of the widest variety of business hardware available, from micro servers, blade servers, Quadro workstation and even green and cloud solutions. Today we will be looking at the Boston Venom 3401-7T, which is one of their flagship models of their Venom series, which has been designed for high-performance graphics, parallel processing and high-speed rendering. With this being one of our first enterprise workstation reviews we have a fresh selection of benchmarks which will help us push these high specification systems to their limits. We have a wide range including CPU, GPU, Memory and storage benchmarks which will help us collect some statistics which will help us find the cream of the crop of workstation rigs and at the same time provide our audience with informative concise results.
Although normally in reviews we don't usually use descriptions that suppliers supply us with, with workstations often being targeted at a particular use or task and I feel that it makes sense for us to include a small description from Boston on what area the Venom is aimed at.
"The Boston Venom 3401-7T is designed to be the ultimate workstation for all design, VFX and digital content professionals.  The Venom 3401-7T is a workstation designed by Boston that brings together the often disjointed design and simulation processes into one package; dramatically increasing productivity and allowing engineers, designers and content creators to do more, faster, and with better results."
So on that note, we have some high expectations going into this review!
Specifications
Name: Boston Venom 3401-7T
Case: Silverstone Fortress Series Case FT04 – Black
Motherboard: Supermicro X10DAX
Processor: Intel Xeon Processor E5-2687WV3 3.1GHz (Haswell) x 2 with 4% Overclock
Processor Cooler: Custom Dual Liquid Cooled Solution
System Memory: 8GB DDR4-2133 1Rx4 ECC REG DIMM (8x8GB Sticks)
Main Boot Drive: Samsung 850 PRO 512GB SATAIII x 2 in RAID 0
Additional Storage Drive(s): Western Digital SE 2TB SATA III – 6Gb/s Hard Drive 24×7 Enterprise Class x2 in RAID 1
Graphics card: NVIDIA Quadro K5200 Retail 8GB, 2304 CUDA Cores, PCE-E (x16) 256-bit, GDDR5 256-bit
Power Supply: Supermicro PS2 1200W Multi Output High Efficiency Power Supply
Optical Drive: 15X Internal Blu Ray Writer with SATA-OEM
Wireless: Not included
Monitor: Not included
Peripherals: Not included
OS: Windows 7 64 Bit
Warranty: 3 Year return to base warranty with 1 year parts swapout (UK only)
Price: £9,118.87 inc VAT as configured Delivered.
We knew we were in for a treat when it came on its own pallet…
This system is extremely heavy, it was a 2 man job just to get it out the box!
The Silverstone Fortress FT04 (as reviewed here).  Don't let it's modest looks fool you, there is some of the fastest hardware money can buy tucked away in here!
CPU-Z
GPU-Z
–~~~~~~~~~~~~–
A Closer Look
---
Opening the hinged front door reveals 2 huge 180mm fans with dust filter
The dust filter clips are simply pushed down to release, and clip back in after a quick clean in a snap.
To the top right side of the case, we have 2 USB 3.0 ports, with headphone and mic ports too.
On the top left of the case are the power and reset buttons.
With the system on its side we can see 4 x USB 3.0 ports, 2 x USB 2.0 ports, Surround Sound, 2 x Gigabit Ethernet, and our K5200 Ports.
The top of the chassis has a removable vent, usually for power supply airflow but not in this case (excuse the pun!)
Removing a side panel reveals some rather excellent noise dampening material attached to it
Even the badge on the front of the case has been replaced to represent the Venom Series
With the side panel removed, we can see the twin AIO CPU coolers mounted together, and the NVIDIA K5200 supported by a mounting bracket.  The case is reversed by the way, I haven't flipped the image!
Up close of the Supermicro X10DAX motherboard and adjoining components. We can see 8 out of the 16 DIMM slots, with the other 8 on the far side of the CPUs. The DIMMS are from SuperMicro which you would never see in the consumer world, but on a system like this, this memory was chosen for a reason.
The NVIDIA K5200 is supported by a PCI Express bracket. While it won't be good for a user wanting to play Crysis on highest settings, the K5200 is the perfect choice for some extreme rendering and other workstation related activities.
Forty cores, that's some serious CPU power! Thanks to the two Intel Xeon E5-2687WV3 processors which also include a moderate overclock.
–~~~~~~~~~~~~–
Test Procedure
---
To test each workstation, we want to stress every component of the system to check stability and performance, giving us an idea as to why those particular components were picked for this particular system. We use a wide variety of applications to gain a broad spectrum of results for comparing diverse aspects of the system performance.
Hardware used:
Software used:
Passmark PerformanceTest 8.0
3D Mark
Super PI
SPECwpc  Benchmark suite which contains benchmarks using

Blender
Handbrake
LuxRender
Maya
Monte Carlo
Black Scholes
Binomial
IO Meter
Energy-01
7Zip
Python
Lammps
Medical-01
–~~~~~~~~~~~~–
Total System Performance
---
The PCMark 8 Home benchmark includes workloads that reflect common tasks for a typical home user. These workloads have low computational requirements making PCMark 8 Home suitable for testing the performance of low-cost tablets, notebooks and desktops. Home includes workloads for web browsing, writing, gaming, photo editing, and video chat. The results are combined to give a PCMark 8 Home score for your system to compare this to. Download here.
–~~~~~~~~~~~~–
GPU Performance
---
3DMark
The new 3DMark includes everything you need to benchmark your hardware. With three all new tests you can bench everything from smartphones and tablets, to notebooks and home PCs, to the latest high-end, multi-GPU gaming desktops. Download here.
–~~~~~~~~~~~~–
CPU Performance
---
Cinebench R15
Cinebench is a widely respected benchmark for testing the performance of x86 CPUs. The program allows you to test single and multi-threaded performance as well as GPU performance by rendering with Open GL. Download here.
Super Pi
Super PI is a single threaded benchmark that calculates pi to a specific number of digits. Super PI is a single threaded benchmark ideal for testing pure, single threaded x87 floating point performance and while most of the computing market has shifted towards multithreaded applications and more modern instruction sets, Super PI still remains quite indicative of CPU capability in specific applications such as computer gaming. Download here.
–~~~~~~~~~~~~–
Memory Performance
---
AIDA64 Engineer
AIDA64 Engineer is a streamlined Windows diagnostic and benchmarking software for engineers. It has unique capabilities to assess the performance of the processor, system memory, and disk drives. AIDA64 is compatible with all current 32-bit and 64-bit Microsoft Windows operating systems, including Windows 8 and Windows Server 2012. Memory and cache benchmarks are available to analyze system RAM bandwidth and latency. Download here.
–~~~~~~~~~~~~–
Storage Performance
---
CrystalDiskMark
CrystalDiskMark is a portable storage drive benchmark utility that enables you to measure sequential and random read/write speeds on different block size data. CrystalDiskMark will work with any storage drives including hard drives, SSDs and USB flash drives. Download here.

Sequential Read
Sequential Write
–~~~~~~~~~~~~–
Networking Performance
---
Passmark Performance Test 8.0
The PassMark Advanced Network Test (which is part of PerformanceTest) is designed to test the data transfer rate between two computers both of which must be running PerformanceTest. One of the computers must act as the server and will sit waiting for a connection. The other computer acts as a client. It connects to the server machine and sends data to it for the duration of the test. You can download a trial version of PerformanceTest fromhere.
Ethernet (LAN)
–~~~~~~~~~~~~–
SPECwpc Benchmarks
---
SPECwpc Benchmarks
SPECwpc V1.0 is the first benchmark to measure all key aspects of workstation performance based on diverse professional applications.
The benchmark was developed by the SPEC workstation performance characterization (SPECwpc) project group, comprising leading vendors such as AMD, Dell, Fujitsu, Hewlett-Packard, Intel, Lenovo, NEC and NVIDIA.
More than 30 workloads are included in SPECwpc V1.0 to test CPU, graphics, I/O and memory bandwidth. The tests are divided into the application categories listed below. Individual scores are generated for each test and a composite score for each category is generated based on a reference machine, yielding a "bigger is better" result.
SPECwpc can be downloaded here
Media and Entertainment
Financial Services
Product Development
Energy
Life Sciences
General Operations
Summary Scores
–~~~~~~~~~~~~–
Temperatures
---
Temperatures
To test thermal performance we measure average CPU and GPU core temperatures during idle and load scenarios. For idle we allow the system to sit at the Windows desktop, for load we let Unigine Heaven 4.0 and Prime95 loop together – we take the temperature measurements from within CPUID HWMonitor 5 minutes into both of these scenarios at the same point. For load we take the average of the maximum temperatures, for idle we take the average of the minimum temperatures.
–~~~~~~~~~~~~–
Final Thoughts
---
Acoustics
Considering this is a workstation of immense power we were very pleasantly surprised at how quiet it was, mainly thanks to the dual liquid cooled CPU coolers. Even after a thorough benching and all 40 cores being maxed at 100% for over an hour the CPU cooler fans had only spun up enough to be barely audible through the noise dampened chassis. In fact, it was as quiet as the majority of our gaming rigs, with a DB (decibel) reading of 49.5db at its loudest.
Thermals
Keeping this system cool is a task mainly dealt by the 2 gigantic 180mm fans which sit in the front of the case. Although the front of the case has a solid door, the sides have wide vents on them which allows these hidden front fans to draw air in and push it through the case and across the components. With the 2 CPU AIO water cooler radiators and fans being attached to each other, it does mean that one CPU sits at around 3 degrees celicus higher than the other, though it makes for a clever use of space. Despite there being insulating noise dampening material on the side panels, the chassis temperatures we recorded were nothing out of the ordinary.
CPU Performance
I've said it once and I'll say it again – forty cores (20 physical). Forty water-cooled cores with a 4% overclock applied to them, to be precise. Although the performance was nothing short of staggering in our CPU related benchmarks, what is even more exciting is that thanks to the AIO water coolers there is room to push the dual Xeons even further! We didn't attempt to push our test system any further than it originally was inteded for but there was definitely some headroom to be had should we have been inclined to have a tinker. On the whole though with this much power to hand pretty much every task we attempted was fast and fluid, very rarely did we ever see cores hitting 100% usage.
GPU Performance
I know some of you will be shouting "can it play Crysis" and the answer is yes, yes it can – although for those of you new to workstations these cards are not designed for gaming on. On the off chance you have a burning desire to know the K5200 sits slightly lower than a GTX770 in terms of gaming performance.  One interesting feature worthy of a mention is Nvidia's Quadro Mosaic display technology, which allows users to create high definition "Power Wall" displays for design review or digital mockup. Using this feature means you can use up to four K5200 GPUs together, and 16 displays or projectors can be synced together.  Worth mentioning too is that the board also supports OpenGL 4.4, Shader Model 5.0 and DirectX 11  (and it will support Direct X 12 when it comes out).
Where this card excels at though is modelling. Thanks to Nvidia iRay – a GPU-accelerated photorealistic ray trace renderer based on the company's proprietary CUDA technology it means that K5200 can use all of it's available power to its maximum potential. Compatibility iRay is very good too, with support for Bunkspeed Pro, Catia Live Rendering, Autodesk 3ds Max Design, Maya and C4D all there and ready to use (although some are plugins). What sets the K5200 ahead of the rest the K family is its ability to real-time render effects, ambient occlusion and shading being the main showcase here. Real-time ambient occlusion rendering (ie, calculating and rendering how the light reflecting and refracting from other objects in the scene affect the main model) are truly stunning and justify the choice for this Maxwell-based top end card, and the 3,074 GFlops of pure power of course.
Disk Performance
The SSD hard disks we were provided were the highest end models available – Samsung 850 PRO's running in RAID 0 for maximum speed. The main difference between these and traditional 840/850 drives that consumers would buy is improved durability, and a fistful of datacentre centric features such as on board ECC (Error Correcting Code) engine, and an improved design for sustained read and writes that can be delivered 24/7/365 without slow down. Some will argue that features such as 256-bit AES encryption and support for TCG Opal 2.0 or Microsoft eDrive (which means the drive can be encrypted transparently without any performance loss) deserve a mention too, though we could sit all day talking about the discrepancies between drive differences.  This still means cold boot times in seconds, Virtualized emulation running as smoothly as you expect natively and read and write speeds almost as fast as the controller can handle.
Overall
Although it is difficult to compare the Boston Venom to other workstations at the moment due to lack of competition, it is clear that what we have here is without a doubt a monster of a workstation. This system is designed to fulfil the needs of those who need nothing but the most cutting edge hardware available in a desktop form factor. The only way you could improve this system would be to stack even more of the insanely powerful K5200 cards in and top the RAM up to 128gb, but believe me when I say it's current specification will be more than enough for most.  This was an exhilarating system to review and sets the bar extremely high for other workstations to follow.  I have absolutely no choice but to award this system our "Extreme Performance" award for the absolutely staggering power of this system.
Pros
One of the best in class CPU solutions available
Best in class single GPU solution
Fantastic chassis choice
Cons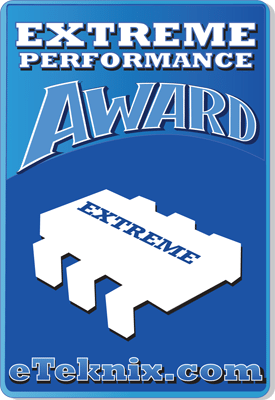 Many thanks to Samsung for kindly providing the Storage in our review system
Special thanks to Boston for providing us with this review sample.