Final Thoughts
---
Acoustics
Considering this is a workstation of immense power we were very pleasantly surprised at how quiet it was, mainly thanks to the dual liquid cooled CPU coolers. Even after a thorough benching and all 40 cores being maxed at 100% for over an hour the CPU cooler fans had only spun up enough to be barely audible through the noise dampened chassis. In fact, it was as quiet as the majority of our gaming rigs, with a DB (decibel) reading of 49.5db at its loudest.
Thermals
Keeping this system cool is a task mainly dealt by the 2 gigantic 180mm fans which sit in the front of the case. Although the front of the case has a solid door, the sides have wide vents on them which allows these hidden front fans to draw air in and push it through the case and across the components. With the 2 CPU AIO water cooler radiators and fans being attached to each other, it does mean that one CPU sits at around 3 degrees celicus higher than the other, though it makes for a clever use of space. Despite there being insulating noise dampening material on the side panels, the chassis temperatures we recorded were nothing out of the ordinary.
CPU Performance
I've said it once and I'll say it again – forty cores (20 physical). Forty water-cooled cores with a 4% overclock applied to them, to be precise. Although the performance was nothing short of staggering in our CPU related benchmarks, what is even more exciting is that thanks to the AIO water coolers there is room to push the dual Xeons even further! We didn't attempt to push our test system any further than it originally was inteded for but there was definitely some headroom to be had should we have been inclined to have a tinker. On the whole though with this much power to hand pretty much every task we attempted was fast and fluid, very rarely did we ever see cores hitting 100% usage.
GPU Performance
I know some of you will be shouting "can it play Crysis" and the answer is yes, yes it can – although for those of you new to workstations these cards are not designed for gaming on. On the off chance you have a burning desire to know the K5200 sits slightly lower than a GTX770 in terms of gaming performance.  One interesting feature worthy of a mention is Nvidia's Quadro Mosaic display technology, which allows users to create high definition "Power Wall" displays for design review or digital mockup. Using this feature means you can use up to four K5200 GPUs together, and 16 displays or projectors can be synced together.  Worth mentioning too is that the board also supports OpenGL 4.4, Shader Model 5.0 and DirectX 11  (and it will support Direct X 12 when it comes out).
Where this card excels at though is modelling. Thanks to Nvidia iRay – a GPU-accelerated photorealistic ray trace renderer based on the company's proprietary CUDA technology it means that K5200 can use all of it's available power to its maximum potential. Compatibility iRay is very good too, with support for Bunkspeed Pro, Catia Live Rendering, Autodesk 3ds Max Design, Maya and C4D all there and ready to use (although some are plugins). What sets the K5200 ahead of the rest the K family is its ability to real-time render effects, ambient occlusion and shading being the main showcase here. Real-time ambient occlusion rendering (ie, calculating and rendering how the light reflecting and refracting from other objects in the scene affect the main model) are truly stunning and justify the choice for this Maxwell-based top end card, and the 3,074 GFlops of pure power of course.
Disk Performance
The SSD hard disks we were provided were the highest end models available – Samsung 850 PRO's running in RAID 0 for maximum speed. The main difference between these and traditional 840/850 drives that consumers would buy is improved durability, and a fistful of datacentre centric features such as on board ECC (Error Correcting Code) engine, and an improved design for sustained read and writes that can be delivered 24/7/365 without slow down. Some will argue that features such as 256-bit AES encryption and support for TCG Opal 2.0 or Microsoft eDrive (which means the drive can be encrypted transparently without any performance loss) deserve a mention too, though we could sit all day talking about the discrepancies between drive differences.  This still means cold boot times in seconds, Virtualized emulation running as smoothly as you expect natively and read and write speeds almost as fast as the controller can handle.
Overall
Although it is difficult to compare the Boston Venom to other workstations at the moment due to lack of competition, it is clear that what we have here is without a doubt a monster of a workstation. This system is designed to fulfil the needs of those who need nothing but the most cutting edge hardware available in a desktop form factor. The only way you could improve this system would be to stack even more of the insanely powerful K5200 cards in and top the RAM up to 128gb, but believe me when I say it's current specification will be more than enough for most.  This was an exhilarating system to review and sets the bar extremely high for other workstations to follow.  I have absolutely no choice but to award this system our "Extreme Performance" award for the absolutely staggering power of this system.
Pros
One of the best in class CPU solutions available
Best in class single GPU solution
Fantastic chassis choice
Cons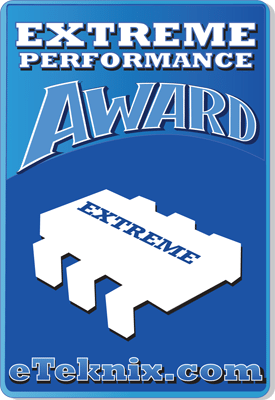 Many thanks to Samsung for kindly providing the Storage in our review system
Special thanks to Boston for providing us with this review sample.