Introduction
---
In May of this year ASUS decided to introduce a new product series into its graphics card line up, the STRIX line. STRIX first showed up on two ASUS graphics cards sporting the AMD R9 280 and the Nvidia GTX 780 GPUs. The headline feature was a 0dB fan operation mode below 65 degrees celsius operation. Shortly after those releases ASUS expanded the STRIX moniker to a range of gaming peripherals to try and create a comprehensive brand for gaming needs. In the graphics card space the STRIX series has phased out the primacy of the ASUS DirectCU series of graphics cards. Although, the term phased out should be used loosely since ASUS effectively market the STRIX GTX 900 series graphics cards as STRIX and DirectCU products at the same time. While confusing, the duality of the naming pattern allows clear recognition of what these STRIX GTX 900 series cards offer. They offer DirectCU II cooling solutions but also the STRIX 0dB fan mode.
Today we are reviewing the ASUS STRIX GTX 970 graphics card which is inspired by the DirectCU philosophy as we find a direct copper contact cooling solution with a pair of fans. ASUS have improved the power delivery to a DIGI+ 6 phase super alloy power design and to give end users some further benefits ASUS have pushed the clock speed up by about 65MHz too. The much paraded 0 dB fan mode is also equipped and I would also like to point out that other manufacturers have jumped on the passive fan bandwagon. MSI and EVGA are the most recent vendors to offer some mimicked variant of this.
Packaging and Accessories
The ASUS STRIX GTX 970 comes in a dual branded box as we've already mentioned: both DirectCU II and STRIX branding sits side-by-side. The accessory package is basic: a driver DVD and generic speed setup guide. No power or display adapters here.
–~~~~~~~~~~~~–
A Closer Look
---
The STRIX GTX 970 is a largely black design. The metal shround features some interesting detailing on it while the two fans have red stickers over them to resemble the owl's eyes of the STRIX branding.
A backplate comes fitted as standard which is most definitely a welcomed touch.
At the bottom we get a glimpse of the rather chunky nickel plated copper heatpipes that ASUS have decided to use.
At the top we spot the huge 10mm heat pipe, the bottom two (pictured above) are both 8mm. Three heatpipes are equipped in total.
At the far end of the GPU we see an open-vented design so heat can be expelled into your case.
The rear I/O has been pruned over the reference design. ASUS drop the multiple DisplayPort options in favour of dual DVI, HDMI and DisplayPort. While giving you less flexibility, in theory most users of this card in practice are likely to have cost effective 1080p monitors, or a single 1440p or 4K monitor. You won't be able to run triple G-Sync monitors…but if you wanted to surely you'd buy a GTX 980?
–~~~~~~~~~~~~–
Test Systems and Procedures
---
Before we delve into any testing we would like to take this opportunity to overview our test system and thank those sponsors who kindly provided us with test equipment to make our work possible. We offer our thanks to:
Intel for supplying us with a Core i7 4960X processor, which we reviewed here.
ASUS for supplying us with a Rampage IV Extreme motherboard, which we reviewed here.
Be Quiet for supplying us with a Power Zone 1000W modular power supply.
Kingston for supplying us with a Hyper X 240GB SSD, which we reviewed here.
AMD for supplying us with a Dell U2711 Ultra Sharp monitor.
Corsair for supplying us with a Hydro Series H100i liquid CPU cooler, which we reviewed here, and the Corsair Vengeance Pro Series 1866MHz 16GB memory kit, which we reviewed here.
Lian Li for supplying us with a PC-T60A test bench.
Noctua for supplying us with NT-H1 thermal compound.
Test System
Motherboard – ASUS Rampage IV Extreme X79 LGA 2011 Motherboard
Processor – Intel Core i7 4960X at Stock 3.6GHz with Turbo Mode disabled
RAM – 

16GB (2 X 8GB) Corsair Vengeance Pro Series 1866MHz at 9-10-9-27

CPU Cooler – 

Corsair H100i with Quiet Fan Profile with Noctua NT-H1 Thermal Compound

Power Supply – Be Quiet Power Zone 1000W
Main Storage Drive – 

Kingston HyperX 240GB SSD

Chassis – 

Lian Li T60 Test Bench

Displays – 

Dell U2711 Ultra Sharp

Operating System – Windows 7 Ultimate 64 Bit
Driver Details
Performance Summary
To formulate our performance metric we use a weighted average method and each benchmark test gets a weight of 1 out of a total calculation with 9 weights (meaning all resolutions and variations of the same test are only ever one weight). Compute tests, power consumption, temperatures and acoustics are not included in the weighted calculation. The 9 weights are 1 for each test we so that means 6 games (listed below) and 3 benchmarks (also listed below). We calculate the relative score for each card in each test by dividing the cumulative average frame rate or score of each card by the average cumulative average frame rate/score from all the graphics cards in group. We then take those 9 relative scores and average those for each card, before dividing those averages by the average of the card being reviewed in the test so that the value of the card being reviewed is 1 and every other card's performance metric is in relation to it. The end result are numbers that vary around 1 with 0.5 being half the performance of the tested card and 2 being double the performance of the tested card. We then convert those numbers into percentages to make them more readable so 1 becomes 100% and 0.5 becomes 50%.
Hardware Used
"Killawatt" style electricity usage meter wall plug
Benetech GM1351 decibel meter
Games Used
Batman Arkham Origins
Battlefield 4
Bioshock Infinite
Hitman Absolution
Metro Last Light
Tomb Raider
Benchmarks Used
3DMark
3DMark 11
Unigine Valley
Other Software Used
Unigine Heaven
Furmark
CPU-ID HWMonitor
TechPowerUp GPU-Z
Computemark
Luxmark
–~~~~~~~~~~~~–
3DMark 11
---
"3DMark 11 is the latest version of the world's most popular benchmark. Designed to measure your PC's gaming performance 3DMark 11 makes extensive use of all the new features in DirectX 11 including tessellation, compute shaders and multi-threading. Trusted by gamers worldwide to give accurate and unbiased results, 3DMark 11 is the best way to consistently and reliably test DirectX 11 under game-like loads." From 3DMark.com
The ASUS STRIX 970 is clocked slower than the Gainward Phantom GTX 970 we also reviewed. As a result it sits a fraction below it in most of the graphs.
–~~~~~~~~~~~~–
3DMark
---
"The new 3DMark includes everything you need to benchmark your hardware. With three all new tests you can bench everything from smartphones and tablets, to notebooks and home PCs, to the latest high-end, multi-GPU gaming desktops. And it's not just for Windows. With 3DMark you can compare your scores with Android and iOS devices too. It's the most powerful and flexible 3DMark we've ever created." From Futuremark.com
The STRIX GTX 970 sits somewhere between the GTX 780 and R9 290X.
–~~~~~~~~~~~~–
Batman: Arkham Origins
---
"Batman: Arkham Origins is a 2013 action-adventure video game developed by Warner Bros. Games Montréal and released by Warner Bros. Interactive Entertainment for Microsoft Windows and the PlayStation 3, Wii U and Xbox 360 video game consoles. Based on the DC Comics superhero Batman, it follows the 2011 video game Batman: Arkham City and is the third main installment in the Batman: Arkham series. The game, played from a third-person perspective, focuses on Batman's combat and stealth abilities, detective skills, and gadgets for combat and exploration. Arkham Origins is the first game in the series with multiplayer capability." From Wikipedia.
In Batman Arkham Origins the ASUS STRIX 970 is 5% slower than the Gainward GTX 970 but still consistently faster than the GTX 780.
–~~~~~~~~~~~~–
Battlefield 4
---
"Battlefield 4 is coming to PC, powered by the advanced technology of DICE's proprietary Frostbite 3 engine. Blur the line between game and glory in Battlefield 4. With dynamic destructable environments, vehicular combat, and the chaos of all-out-war with 64 players, Battlefield 4 on PC will be an unmatched interactive experience. In addition to its hallmark multiplayer, Battlefield 4 features an intense, dramatic character-driven campaign that starts with the evacuation of American VIPs from Shanghai and follows your squad's struggle to find its way home. There is no comparison. Immerse yourself in the glorious chaos of all-out war, found only in Battlefield." From Battlefield.com
Battlefield 4 seems to favour AMD GPUs a lot more and the STRIX 970 falls behind the R9 290 on this rare occasion.
–~~~~~~~~~~~~–
Bioshock Infinite
---
"BioShock Infinite is a first-person shooter like you've never seen. Just ask the judges from E3 2011, where the Irrational Games title won over 85 editorial awards, including the Game Critics Awards' Best of Show. Set in 1912, players assume the role of former Pinkerton agent Booker DeWitt, sent to the flying city of Columbia on a rescue mission. His target? Elizabeth, imprisoned since childhood. During their daring escape, Booker and Elizabeth form a powerful bond — one that lets Booker augment his own abilities with her world-altering control over the environment. Together, they fight from high-speed Sky-Lines, in the streets and houses of Columbia, on giant zeppelins, and in the clouds, all while learning to harness an expanding arsenal of weapons and abilities, and immersing players in a story that is not only steeped in profound thrills and surprises, but also invests its characters with what Game Informer called "An amazing experience from beginning to end." From Bioshockinfinite.com
In Bioshock the GTX 970 STRIX leaps back ahead of AMD's offerings and is just a whisker behind the GTX 780 Ti.
–~~~~~~~~~~~~–
Hitman Absolution
---
"Hitman: Absolution is the fifth title in the Hitman series by producer, IO Interactive, published by Square Enix and co-published by Eidos. The game was released for thePlayStation 3, Xbox 360 and Microsoft Windows on November 20, 2012. Hitman: Absolution runs on IO Interactive's proprietary Glacier 2 game engine, combining classic Hitman game mechanics with new mechanics." From hitman.wikia.com
Hitman is an AMD game in practice but the ASUS STRIX 970 still does well to keep pace.
–~~~~~~~~~~~~–
Metro Last Light

---
"Metro: Last Light (formerly Metro 2034) is a first-person shooter and horror video game developed by Ukrainian studio 4A Games and published by Deep Silver for Microsoft Windows, PlayStation 3 and Xbox 360. It was released in May 2013. The game is set in a post-apocalyptic world and features a mixture of action-oriented and stealth gameplay. The game exists in the universe of the novel, Metro 2033, and its sequels, written by Russian author, Dmitry Glukhovsky, but does not follow any direct storylines from the books. Metro:Last Light takes place one year after the events of Metro 2033, proceeding from the canonical ending from the novel, ending where Artyom chose to call down the missile strike on the Dark Ones.Metro: Last Light features technology which boasts of lighting effects and improved physics claimed to set a new graphical benchmark on the PC and consoles." From Wikipedia.org
Metro isn't playable with a single GPU at 1440p but the STRIX 970 is chomping at the heels of the more expensive R9 290X – a valiant effort.
–~~~~~~~~~~~~–
Tomb Raider
---
"On 5 March 2013, Square Enix released Tomb Raider, billed as a reboot of the franchise. In Tomb Raider, the player is confronted with a much younger Lara Croft who is shipwrecked and finds herself stranded on a mysterious island rife with danger, both natural and human. In contrast to the earlier games Croft is portrayed as vulnerable, acting out of necessity, desperation and sheer survival rather than for a greater cause or personal gain." From Wikipedia.org
My feeling throughout the testing so far has been that ASUS should have gone for a more aggressive overclock, this is yet another benchmark that proves that claim.
–~~~~~~~~~~~~–
Unigine Valley
---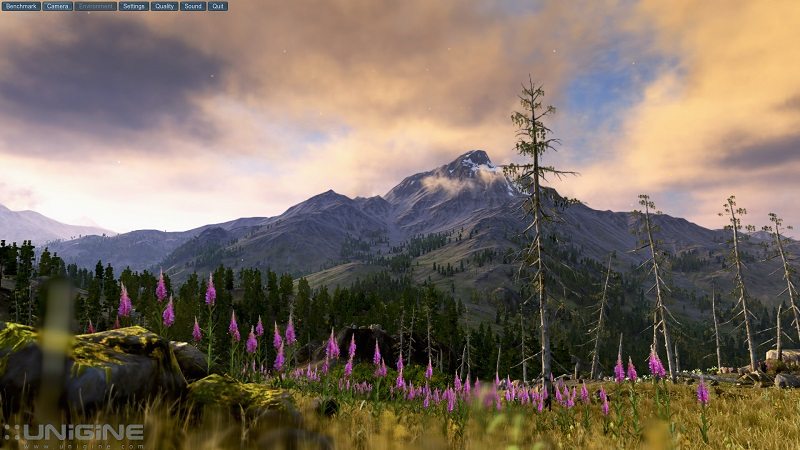 "Valley Benchmark is a new GPU stress-testing tool from the developers of the very popular and highly acclaimed Heaven Benchmark. The forest-covered valley surrounded by vast mountains amazes with its scale from a bird's-eye view and is extremely detailed down to every leaf and flower petal. This non-synthetic benchmark powered by the state-of-the art UNIGINE Engine showcases a comprehensive set of cutting-edge graphics technologies with a dynamic environment and fully interactive modes available to the end user." From Unigine.com.
Unigine Valley appears less clock-speed sensitive than other titles as the STRIX 970 is neck-and-neck with the Gainward 970.
–~~~~~~~~~~~~–
Performance Summary
---
With our reviews stuffed full of a large number of benchmarks and games at different resolutions and using different settings it can be difficult to get a feel for the overall performance of a graphics card we are testing. As a result we've created a performance summary metric. The metric is simple, but my explanation isn't, if you're interested in that explanation then see the test systems and procedures page.
Summarising all the results we can see the STRIX GTX 970 is on par with a stock AMD R9 290X out of the box. Of course, the stock AMD R9 290X will degrade rapidly in performance as it overheats but the GTX 970 STRIX certainly does not do the same.
–~~~~~~~~~~~~–
Compute Performance
---
ComputeMark (DX11 Compute)
ComputeMark is first 100% DirectX 11 Compute Shader benchmark and ultimate GPU burner. From ComputeMark.com.
The STRIX 970 falls to the back of the pack in compute tests.
Luxmark (OpenCL Compute)
LuxMark is a OpenCL benchmark tool. The idea for the program was conceived in 2009 by Jean-Francois 'Jromang' Romang. The idea was quite simple, wrap SLG inside an easy to use graphical user interface and use it as a benchmark for OpenCL. From LuxRender.net.
Maxwell is very strongly tuned for OpenCL compute: the GTX 970 STRIX easily beats the fastest GTX 780 Ti on the market.
–~~~~~~~~~~~~–
Overclocking and Overclocked Performance
---
The Gainward GTX 970 Phantom may have been clocked higher out of the box but the ASUS STRIX GTX 970 clocked higher with a bit of tweaking. We ended up with 1324/1463 MHz on the core and 1953MHz on the memory, the Gainward managed 1242/1394 and 1928MHz. With the highest clock speed the ASUS STRIX 970 is almost on par with a stock GTX 980…but not quite. Mind you, you can pick up a pair of ASUS STRIX 970s for a fraction more than the cost of a high spec GTX 980.
3DMark
Battlefield 4
–~~~~~~~~~~~~–
Noise Levels
---
The noise levels produced by a graphics card is an increasingly important consideration for PC users and Gamers these days. While fan noise is unlikely to ruin the gaming experience, no one likes a noisy graphics card and no one will argue with the fact that quieter is better. Many users are willing to sacrifice temperatures to gain a silence advantage, but with better cooling solutions being developed it is increasingly common to be able to get both better cooling and better acoustic performance than a reference solution on most custom cooled graphics cards from Nvidia and AMD partners. That said both AMD and Nvidia have stepped up their game too with regards to acoustics on their reference coolers. Ultimately, acoustics will always be a big deciding factor when there is often very little differentiation between graphics cards using the same GPUs. To acquire the noise levels of graphics cards in our benchmarks we run three different load scenarios for 5 minutes and take an acoustic reading using our decibel meter at the end of those load scenarios. The measurement is taken approximately 30cm horizontally away from the graphics card and the CPU fan is disabled and other background noise minimised to reduce interference. The three load scenarios are desktop idle, Furmark load and Unigine Heaven load. The reading in Unigine Heaven is always taken in the first scene of the sequence after one loop is completed.
Wow! This card is crazy quiet. At idle, there's no additional noise above the background noise level. Under the most strenuous Furmark loading the STRIX 970 barely even wakes up: that's some impressive acoustic performance. Did the temperatures suffer to keep it that quiet?
–~~~~~~~~~~~~–
Power Consumption
---
With electricity becoming increasingly expensive across most parts of the world the need for computer components to become power efficient has never been more relevant. Graphics cards are often the most power hungry components inside a desktop system so having an efficient graphics card is very important to keeping power bills under control. Power is often correlated to heat and so lower power consumption means a graphics card is likely to run slightly cooler and put out less heat into your system meaning your other components will run cooler with improved longevity. AMD and Nvidia have both made power consumption an integral part of the way graphics cards dynamically overclock so the need for graphics card vendors to use efficient VRM and PCB designs is becoming important to maximise performance. We take power readings after 5 minutes of three different load scenarios: desktop idle, Furmark load and Unigine Heaven load.
Power consumption is similar to a stock GTX 980 and a little lower than the Gainward GTX 970 due to a combination of a lower clockspeed and more efficient VRM.
–~~~~~~~~~~~~–
Temperatures
---
The cooling solution which graphics card vendors choose to implement is one of the main differences that consumers have to contend with when choosing a graphics cards. Apart from their acoustic properties, the thermal properties of graphics card coolers are extremely important. Lower temperatures are always better and with AMD and Nvidia opting to use dynamic overclocking algorithms that take temperature into account it is important that graphics card vendors use high performance cooling solutions in order to maximise performance. The era of graphics cards reaching dangerous temperatures are now in the past but the importance of lower temperatures still remains. Lower temperatures mean better stability, longer component longevity and lower fan speeds .We take temperature readings after 5 minutes of three different load scenarios: desktop idle, Furmark load and Unigine Heaven load. We always record actual temperatures and make a note of the ambient. In the case where more than 1 GPU is used an average is created.
Those temperatures!!! Not only is it the quietest graphics card by a country mile but it also runs super quiet: ASUS have hit this one out of the park.
–~~~~~~~~~~~~–
Final Thoughts
---
Pricing (accurate at the time of writing)
The ASUS GeForce GTX 970 STRIX 4GB graphics card retails for $349.99 at Newegg and the same price at Amazon over in the USA. In the UK Overclockers UK stock the card for £299.99. ASUS provide a 3 year warranty with this product, it is not currently part of any game bundle deals.
Summary 
At $350 in the states the ASUS STRIX GTX 970 holds a modest 10% premium over the baseline pricing for the GTX 970. In the UK the pricing is a little more inflated at 20% over the baseline of £250. Whichever way you assess the pricing there's a good reason to pay more for the ASUS STRIX GTX 970 over a reference style design or even a rival custom cooled design like the EVGA GTX 970 ACX which has been the subject of significant controversy for its cooling solution over the past month. The good reason to pay more is simple: the ASUS STRIX GTX 970 is crazy quiet in any form of loading scenario whilst still managing to maintain sterling temperatures. The passive fan mode, one of the newest trends that ASUS have kick-started in the graphics card market, offers an interesting way to keep your system quieter under light loads. In practice, any game will push the GPU beyond 65 degrees after a short period of time but from our testing if you're playing an easy to run game with V-Sync enabled you could easily prevent 65 from ever being reached. For example at 1080p this graphics card might smash 250FPS+ in a light game but by enabling V-Sync you could drop that down to 60FPS and cut the GPU workload down to a low enough level to sustain passive operation. Even more pertinent is the role of G-Sync here: if you're running a 60Hz G-Sync panel your graphics card would do this automatically.
What didn't we like about the ASUS STRIX GTX 970? Not that much if I'm honest. Aside from the seemingly high UK pricing the only other noteworthy blemish is the fact that ASUS have been too conservative on the out of the box clock speed. Given many consumers still might be afraid of jumping into the world of overclocking I think ASUS would have been wise to match or come near to the clock speeds of rival solutions such as Gigabyte's G1 Gaming variant and EVGA's FTW edition. Despite that we've seen that the STRIX GTX 970 overclocks like a beast so the lack of "out of the box" speed compared to rival offerings is a mere technicality: overclocking will fix it.
Pros
Excellent overclocking
Mind blowing cooling and acoustic performance
Sleek aesthetics
User-realistic Display output configuration
Passive fan mode
Cons
No support for triple G-Sync monitors, only one DP
Factory overclock is a little pale compared to rivals
"The latest incarnation of ASUS DirectCU II cooling on the STRIX GTX 970 is probably the best cooling solution on the market for a GTX 970. It strikes up a brilliant balance between temperatures and noise while still offering great performance and overclockability."
Thank you to ASUS for providing this review sample.